Empire MX-6 all-mountain bike gets complete 3D printed frame
04.02.2014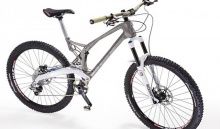 3D printing pedals confidently into the world of customized bicycle manufacturing this week as UK metal-based additive manufacturer Renishaw and British design firm Empire Cycles announce their 3D printed mountain bike frame.
3D printing has already been used to make frame parts and accessories for bicycles using metals and plastics, but this mountain bike frame – which is based on Empire's MX6 design and 33% lighter than the original prototype – breaks out of the peloton.
The bicycle frame was 3D printed in sections using titanium alloy and then sleeved and bonded together – a process which the company says offers several advantages in design freedom, construction and performance.
But, their real trick in the design process is called "topological optimization" which they use to determine the "logical place" (hence "topo" – Greek for "place") for design materials. This usually happens using iterative steps and element analysis.
They start with a basic design and then remove material from areas of low stress which creates a new design that is lightweight and strong.

3D printing technology allows Renishaw and Empire Cycles to produce rapid iterations and provides flexibility to make design improvements up until production. 3D printing is also ideal for producing a bicycle frame with complex shapes, hollow structures, and customized features for its rider.
The frame was printed on a Renishaw AM250 laser melting system in titanium alloy – a material which is strong, durable, and lightweight. According to Renishaw's case study, additively manufacturing the frame using titanium makes the parts denser – and thus stronger – than if they were cast.
All mountain bike frames were tested using European standards maintained by CEN. So this 3D printed bike frame has been proven trustworthy in the wild.

With the 3D printed MX6 bicycle frame, Renishaw and Empire Cycles showcase the abilities of their companies – as well as 3D printing technology – to improve upon existing design and manufacturing processes. 3D printing may be used to produce strong, lightweight, customized bikes more quickly.
This bike may be a sign that 3D printing is gearing up for a more wide-spread entrance into customized bicycle manufacturing.