Evonik invests in 3D printed, biomechanically optimized insoles from Wiivv Wearables
23.06.2015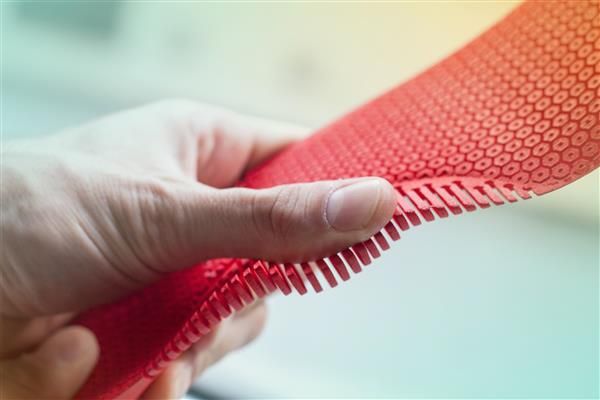 What if you could run faster? Jump Higher? Live Better? These are the questions Wiivv Wearables, one of the first companies to use 3D printing in individualized mass production, hopes to answer with their new line of affordable, customizable, 3D printed insoles, which can be ordered directly from your smartphone.
Whether you are an avid jogger, injured athlete, or haven't always made the wisest shoe decisions (we're looking at you, stilettos), chances are you've worn or have considered the advantages of insoles or orthotics. According to a press release from Evonik, the global market volume for insoles is estimated at about $4.5 billion, and in the US it is currently growing at between 4 and 5 percent per year. However, despite the millions of people turning to insoles for foot or back pain relief, the process of actually getting a pair can be arduous and costly. Patients generally have to make multiple appointments with podiatrists, have manual fittings, and wait weeks for the final, expensive product to arrive.

In an effort to overhaul the process to make it faster, more accessible and more affordable for individual consumers, North American-based Wiivvhas developed software that allows customers to skip the middleman—a.k.a. podiatrists or other medical specialists—and get their hands on biomechanically optimized footwear. The process is simple: customers use their smartphones take photos of their feet which are then sent directly to Wiivv. The company's propriety customization engine, which was developed in collaboration with biomechanics researchers, then analyses the images and translates the individual properties of the foot into the three-dimensional form of personalized insoles, which are in turn translated into 3D printing-ready files. According to the press release, this process reduces the design and development time of printable 3D models from several hours to just seconds, with just three photos of the customer's foot required to calculate the printing. Finally, the orthotic 3D printable file is sent to one of Wiiv's printing facilities in San Diego, California or Mississauga, Ontario, where they are printed in polymide 12 from Evonik on SLS printers. Prices range, however one pair is said to cost roughly $200.

While Wiivv's vision is to revolutionize the world of orthotics and insoles, their product still faces one major criticism: their direct-to-consumer process is no replacement for the biomechanical nuance and expertise of an actual medical professional. Christian Johannsen, a certified pedorthist in Vancouver, has partnered with Wiivv and used their technology to design and print orthotics for his patients, however he doesn't recommend customers try the order-from-home service. "We try to figure out what is going on biomechanically so that pain goes away," said Johannsen. "It won't be perfect when you buy online like that."
Nevertheless, by concentrating on 'comfort fit' products that correct minor alignment issues, increase comfort, and help athletes improve performance, Wiivv is trying to wedge itself into the under-developed market between cheap drugstore insoles and podiatrist-designed pairs, which can cost upwards of $500. "We're trying to bring that level of access, where you're not needing to go to a practitioner of any sort,"said Louis-Victor Javadji, the Vancouver-based co-founder of the company.
Javadji co-founded Wiivv last year alongside former Hewlett Packard employee Shamil Hargovan. Javadjiwas prescribed orthotics several years ago after dislocating his knee in a running accident, but found himself consistently frustrated while dealing with the high costs and long wait times of traditional orthotics. He met Hargovan in California, and the two have since been hard at work making their dream a reality.
Currently, the company has offices in Vancouver, Mississauga, San Diego and Palo Alto. They have also just received a venture capital investment from Evonik, made jointly with Formation 8, a financial investor headquartered in Silicon Valley, and Real Ventures, Canada's largest and most active seed investor. "Wiivv's business is an ideal match for Evonik," says Dr. Bernhard Mohr, head of Venture Capital at Evonik. "Through our investment in Wiivv, we're supporting the market launch of one of the first individualized mass-produced articles to be manufactured by 3-D printing. This also gives Evonik access to the highly innovative growth market for wearables, which are electronics worn on the body."

Shamil Hargovan and Louis-Victor Jadavji, founders of Wiivv.
So far, the company has shipped over 100 pairs, however they plan only plan to launch fully in fall 2015. You can sign up for early access via their website. In the near future, they are developing a mobile app and orthotic subscription model for their current line of 3D printed insoles. In addition, the company plans to integrate electronic sensors into the insoles that will continuously record dynamic data and give users bionic capabilities. Athletes, for example, will be able to optimize their movement sequences, while movement profiles of industrial workers to measure and predict their degree of fatigue.
In the long term, Wiivv may also look into partnering with medical experts, or even well-known shoe brands such as Nike, however for now, their focus is on the individual needs of each and every customer. "Wiivv helps build stronger, happier, healthier humans form the ground up," said Javadji. "Some day, Wiivv will add 10 years to our customers' lives simply by keeping them active and ambulatory for longer."