Experts from around the world go to 3D Print Conference in Kazakhstan!
29.04.2014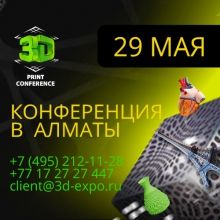 On 29 May 2014 Almaty will for the first time host real event of the world of advanced technology - conference of three-dimensional printing and scanning 3D Print Conference!
The mission of the event is to provide answers to all questions relating to technology of 3D printing and scanning that today is used in various industries and is competitive and the most cost efficient.
We would like to bring to your attention first speakers of the conference:
Anton Vedeshin - Technical Director, Secured 3D (Estonia)

Anton Vedeshin is Chief Engineer of Secured 3D. Since 2005 he is a co-founder and head of Innovative Technologies & Business Systems. Member of the National Doctoral School of Estonia in Information and Communication Technology. Lecturer on cloud technologies at Tallinn University of Technology.
Desmond Adair - associated professor, Nazarbayev University (Kazakhstan)

Desmond Adair holds a PhD in Aerodynamics from Imperial College, London. He spent a number of years working as a Senior Aerospace Engineer at NASA Ames Research Center, Moffat Field, California and at the National Physical Laboratory in Teddington, England.
Before coming to Nazarbayev University, Dr. Adair was a Senior Lecturer with the University of Tasmania, Australia, and still holds the position of University Associate with their School of Engineering.
Nurmukhamet Kanture – director, 3D Print Technology

Nurmukhamet Kanture graduated Bachelor's programme in international English-speaking University KIMEP with a degree in finance and management, Almaty, Kazakhstan. Worked as auditor in international audit company Delloite. Held position of finance manager for oil and gas companies. Took active part in IPO on London Stock Exchange.
In 2013 he established 3D Print Technology, it is actively developing and implementing system of 3D prototyping in Kazakhstan.
Oleg Giyazov - Director, RRT Global (Russia)

Oleg Giyazov is the director and founder of RRT Global that specializes in the development of technologies for oil refining process.
In 2013, for its development (PRIS technology) RRT Global entered Top-20 global companies that will change the future of the global power industry (IHS CERAWeek, Houston, USA), the award was given in the presence of Bill Gates (chairman of Microsoft) and Daniel Yergin (CEO IHS).
3D Print Conference brings together experts from around the world, so you will be able to learn the latest information about 3D printing: what can 3D printer be used for? Why is it useful? What are the prospects for the development of 3D printing in Kazakhstan?
You are welcome to 3D Print Conference!
More information: