F-F-Fiddle: a fully 3D printed electric violin made on a home 3D printer
03.04.2014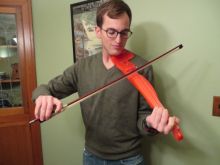 The F-F-Fiddle is an FFF (fused filament fabrication) full size 3D printable electric violin that can be produced using any desktop 3D printer.
Mechanical Engineer David Perry from Portland, Oregon started the project with his friend and industrial designer Dan Nicholson, after visiting a New York Maker Faire. He purchased a 3D Printer and set out to try and make function objects on a home 3D printer, hoping to inspire others and to show what is possible with inexpensive 3D printers.The F-F-Fiddle was designed using Autodesk's Fusion 360 CAD design software. Afterwards he used Netfabb Basic to manage data for 3D printing. The 3D model was then sliced and prepared for 3D printer using Slic3r, KISSlicer and Repeteir-Host.

The current fiddle is the fourth physical prototype and the fifth revision of the design. The F-F-Fiddle prototype was printed on a Type A Machines Series 1 3D printer, except the fiddle in a bold bright red below, which was made on a Makerbot Replicator 2
.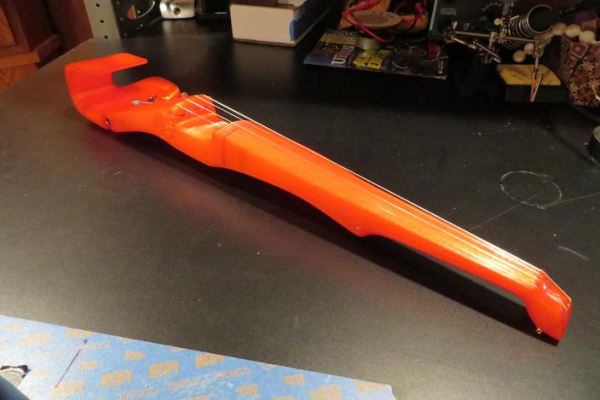 "All parts can be printed without support material by home FFF style 3D printers." Perry said. "In addition, the F-F-Fiddle is designed to showcase 3D printing technology: the chin and shoulder rest positions can be customized on each instrument, we embrace the flat build surface, and we use curvy internal wire routing (only possible with 3D printing). The semi-hollow infill of the 3D printer leaves space for sound to resonate—this isn't a solid-body instrument! We also think that the printed layers leave a surface finish reminiscent of the wood grain of a traditional instrument."
"Each revision was played and improved for playability. We're still iterating, and each F-F-Fiddle is a little nicer to play. We've gotten to the point where we're ready for others to try it!" Perry explained.Total bill of materials (BOM) cost of the instrument is currently about $250 and Perry encourages everyone to print the parts themselves.