FATHOM and North Design Labs 3D Print Movie Prop for Terry Gilliam's New Movie "The Zero Theorem"
14.04.2014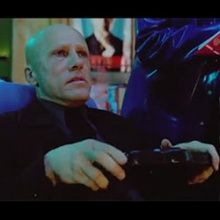 Could 3D printing play a role in solving the existential crisis of humanity? Terry Gilliam seems to think so as his new film employed FATHOM and North Design Labs for a unique movie prop with a short lead-time. The film "The Zero Theorem" will be released in theaters in the US during 2014, and it appears to have the distinct features familiar to Gilliam's audience. A call went out to produce an appropriate prop for a futuristic setting, a prop that would capture the proper essence of a futuristic, interactive and functional gadget. FATHOM and North Design Labs answered with a unique case that houses a Samsung Galaxy tablet. The design includes movable tabs and buttons that activate the touch screen, triggering various lights and graphics.
Due to the eccentric flare and the film's setting, finding an appropriately futuristic and alien-like device posed a challenge to 3D printers, but FATHOM and North Design Labs forged ahead. Mike North of North Design Labs commented on the request, "The movie prop and controller presented a unique challenge by needing to not only look like some sort of alien futuristic device, but it also needed to function like one."
FATHOM provided guidance on how to prepare files for 3D printing to achieve the desired form, fit and functionality in PolyJet multi-materials. To complete the project in a timely manner, FATHOM and North Design Labs utilized GrabCAD for file sharing during the iteration process.
The final design was 3D printed on the Objet500 Connex in VeroClear (rigid) and TangoBlackPlus (rubber-like) materials. The FATHOM team also completed post-processing and production assembly, including a critical step that involved adhering conductive foam to the underside of the keypad. This advanced application was 3D printed and assembled within two days because 3D printing is revolutionizing production in every industry it touches.
North explained the exceptional production time, "With only a couple weeks to take a concept to a fully functional prototype, we needed a company we could work closely with and I knew I could deliver. Just as in the past, FATHOM came through on all counts."
The movie is star-studded and promises to portray fine acting, philosophical meanderings and dazzlingly cinematography. It is good to know the hands that put the props in front of the camera capture a similar vein of creativity and dazzle.