First 3D printing café in Europe celebrates 6 month anniversary with a showcase of customers' work
30.07.2014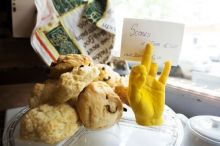 "3D printing and the maker culture is now accessible for everyone, young and old, experienced or total newbie!" says Norma Barr, co-founder of DimensionAlley, Europe's first 3D printing FabCafé.
"Over the past 6 months we have welcomed a real variety of customers, from experienced CAD engineers to 6 year olds learning how 3D printing works using icing sugar and sliced up banana cakes! The experience has been illuminating and has brought us projects we would never have imagined when we opened the doors on a wet and cold day in December." continues Barr.
The 3D printing Fabcafé, near Alexanderplatz, offers expert service and support for 3D printing as well as great British style food and drinks.
"We have been running a lot of workshops, I think most people are surprised how quickly they have been able to design and print their first object. I especially like using the software Tinkercad for the complete beginners," elaborates Barr.
Most of customers have been Berlin based and they often cycle to the shop, keeping the production process very environmentally friendly, this is complimented by having a local filament manufacturer to supply custom colour PLA.
The company is placing more emphasis now on prototyping and small-scale manufacture. Amin Torabi, also co-founder tells about his favourite project. Berlin is a vibrant hub of start-ups, and Amin was excited to work together with Infarm, and indoor farming company, to prototype print parts for their "It's great to see start-ups supporting each other" he enthused. "Normally we print in PLA (corn starch based plastic) because it is suitable for a café environment," elaborated Torabi, "but for an outdoor watering system ABS was the clear choice."
3D printing is ideal for creating truly unique gifts. "One of my favourite projects was a bespoke terrain model. The customer wanted to create a landscape model for an 80th birthday. It should depict the ex-act route the old man drove to work. We created the model and hand-painted it for a perfect finish," reminisces Barr. Recently they ceated a model of a beautiful New Zealand location seen in the film "The Lord of the Rings."
Great projects: Showcase of the first 6 months:
Bespoke terrain
Lock adapter
Finger skateboard
Family portraits – scanned busts
Science model—thermal convection plumes
Mini Memorial art piece
Model locomotive repair
Arthritic shoulder medical model