First affordable SLS 3D printers, Ice1 & Ice9, to launch on Kickstarter next Monday
18.08.2014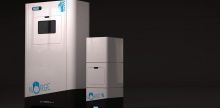 "Selective Laser Sintering" is one of the oldest 3D printing technology around. It uses laser as the power source to sinter powdered material to create a solid structure. Unlike some other additive manufacturing processes, such as fused deposition modeling (FDM), SLS does not require support structures and can produce parts with fine details.
While there are many desktop 3D printers on the market, most of these printers use a FDM method, not SLS. SLS is often more expensive than FDM machine: a professional 3D SLS printer starts around 200,000€. However there are some inventors out there who want to build their own affordable laser sintering 3D printers.
UK based company Norge Systems started working on their project two years ago. Their goal is to build "the world's first low-budget but high quality SLS printer that even a small or medium design studio can afford. Easy to use, small and with a nice design."
In the last eight months, team member Lica Venri, Design, electronics and laser optics experts; Alessandro Facchini, 3D artist and software developer, and Stefano Rebecchi have been working hard on developing software and optimizing supply chain and assembling process. They have finally come up with two new SLS 3D printer: Ice9 and Ice1.
What makes their SLS printers interesting, apart from price/technology ratio, is the build volume. The Ice9 has a working area of 30x30cm, and a "z-axis" of 45cm, and the small Ice1 has a 20x20x25cm build volume which are big enough to print lots of full-scale prototypes without the need to resize them to fit the printers volume limits.
The Ice9 SLS 3D Printer

The Ice9 is a low-budget SLS 3D printer designed for printing plastics models (nylon or Ployamide based materials). One interesting feature of the Ice9 SLS printer is the engraving/cutter function. You will be able to draw or cut materials such as wood, paper, foam, or even felt.
Features:
SLS 3D Printer with 40W tube lase
Works with polyamide or nylon powder
30x30x45cm build volume
Arduino 2 powered controller
Multifunction display for quick operations
USB port
SD card reader
Sleek design, solid rock build, UK assembled
Navigator software for sending prints to the machine
Specifications:
Printer size: 1500x1025x410mm
Layer thickness: 0.1 - 0.15mm
Average print speed: 10 to 30mm/hour
Powder feeding mode: Two-way powder feed system
Scanning system: Theta lens focusing, high-accuracy magnetic encoder
Scan speed during build process: up to 4 m/s
Laser power control system: PWM Digital signal
Power Supply: 230VAC,50/60Hz,5KVA
Software: Manual and automatic control mode; Real-time build parameters modification; Three-dimensional Visualization; Open Source Platforms


The price of Ice9 will be 19,900 GBP + VAT (circa 34,000 USD + tax).
The Ice1 SLS 3D Printer
The Ice1 the desktop version of Ice9 SLS 3D printer and will be priced at 7,500 GBP + VAT (circa 13,000 USD + tax).
Specs:
Printer size: 900x300x350mm
Layer thickness: 0.1 - 0.15mm
Average print speed: 8 to 25mm/hour
Scanning system: Theta lens focusing, high-accuracy magnetic encoder
Scan speed during build process: up to 3 m/s

SLS printing technology allows a wide range of materials to be used to build your prototypes. Norge Systems has up to now tested their Ice9 and Ice1 with Arzauno PA2200 Polyamide, Windform XT, Duraform serie material and CastFormTM PS plastic.
The company is currently planning to launch a Kickstarter campaign for Ice1 and Ice9 on August 18, 2014, to bring high quality 3D printing to your desktop. The SLS printers will be available on the market on the third quarter of 2015.
In addition, the team will also start working on the first low budget Metal Sintering 3D printer, which is scheduled to release by the first half of 2016. The printer, named IceM, will be capable of printing with alumide, titanium and steel powder. Stay tuned.