First children's book about 3D printing
18.12.2013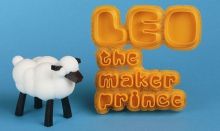 Carla wanted to become an artist when she grew up. She became an accountant instead. Carla's calm life was upended when she met LEO, the Maker Prince. And through LEO's magic -- 3D printing -- Carla finally became the artist she'd long ago wished to be.
LEO the Maker Prince teaches children (both young and old) about 3D printing by following Carla and LEO's journey through Brooklyn. LEO is a walking, talking robot who has the magical ability to print (in plastic) any object that Carla draws. The other robots have their own special capabilities: H1-H0 prints in metal, Sinclair-10 can find and print objects from a huge catalog of designs, and the others (including AL1C3-D, IRIS-7, and NiXie) have unique talents, too. Readers can come along for the journey, too: each of the objects featured in the book are 3D printable, their instructions are available for free download. - Just in time for the holidays!

"This book serves to illustrate the potential of 3D printing to bring new objects into our lives, as well as its potential to enable people to become makers," says author Carla Diana. "By putting these ideas into the hands of children, we can help jumpstart our ambassadors for the future."