Founder of iGo3D will speak at 3D Print Expo conference
11.01.2014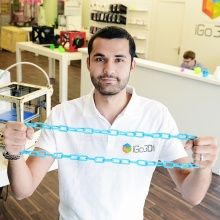 February 13-14, 2014, ECC "Sokolniki" in Moscow will host Russia's first exhibition dedicated to 3D printing technology 3D Print Expo. As part of the show a conference will be held, scientists, experts, developers, suppliers and other people interested in development of three-dimensional printing technology taking part.
We are glad to introduce new speaker of the conference Michael Sorkin - founder of German 3D printing service iGo3D, who will report on: "First steps on the way to retail 3D printing business". Just before opening first office in Russia Michael Sorkin will share European experience of operating in market of 3D printing, will tell about his insights and the story of opening his first store in Germany.
About the speaker:
Michael Sorkin began his career as co-founder of innovative startup Neverhill. His passion for design and new technologies developed into huge interest in 3D printing.
Today, a few months after project launch company iGo3D GmbH acquired the status of market leader in personal 3D printing in Germany and developed several successful products, including material for 3D printing Taulman. In September 2013, Michael and his team have done what most Germans would call madness: iGo3D opened its first retail 3D printing store in Germany! This caused a lot of hype in German media. Today, however, the project is so firmly established in the local market, that company has decided not to stop there and expands to the markets of other world capitals, including Moscow.
Learn about revolutionary technology that will change this century in the nearest future.
Join 3D Print Expo!