Get faster for football: Nike unveils new 3D printed Super Bowl cleat
16.01.2014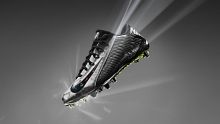 A year ago, Nike introduced its first football cleat built with 3D printing technology. The Vapor Laser Talon was built for a specific 40 yard dash - a metric used by NFL scouts to assess in-game speed. This week Nike unveiled its new Nike Vapor Carbon 2014 Elite Cleat as part of the NFL Nike Silver Speed Collection for Super Bowl XLVIII hosted this year. The Vapor Carbon 2014 Elite features 3D-printed plates and draws from decades of athlete insights for its revolutionary design. In particular, this one utilizes the "V-Plate" shape from the Nike Vapor Laser Talon, which has now been adapted for quick multi-directional movement. Other features are a full-length carbon fibre plate for enhanced energy-return and a lightweight, one-piece upper to give the cleat a second skin fit.

In order to understand how to make athletes faster, Nike's team of designers, bio-mechanists, coaches, trainers, and athletes work together with Olympic track and field legend Michael Johnson to create a design that focused on what Johnson called the "zero step," the initial push off the ground before the first step is taken.
Through this relationship, Nike was able to push the limits of innovation by creating the first-ever 3D printed plate on the Nike Vapor Laser Talon cleat worn by seven of the top-10 fastest athletes at the 2013 NFL Scouting Combine. Producing a cleat through more traditional prototyping methods would have taken three years, however 3D printing technology allows Nike to prototype a fully functional plate and traction system within a fraction of the traditional timeframe and at a fraction of the weight.
The plate of the cleat is made using Selective Laser Sintering (SLS), a manufacturing technique that uses high-powered lasers to fuse small particles of materials into a three-dimentional shape. The SLS process allows for the engineering and creation of shapes not possible in traditional manufacturing processes. It also provides the ability to make design updates within hours instead of months to truly accelerate the innovation process to never seen speeds.

"SLS technology has revolutionized the way we design cleat plates – even beyond football – and gives Nike the ability to create solutions that were not possible within the constraints of traditional manufacturing processes," said Shane Kohatsu, Director of Nike Footwear Innovation.
The silver Nike Vapor Carbon 2014 Elite Cleat will be available for pre-order on Nike.com January 9, and will be offered in an array of colors this Fall.
Watch the video below telling the story how Olympian Michael Johnson and 3D printing helped to innovate the Vapor Carbon Elite Football Cleat for the 2014 Super Bowl.