Graphene 3D Lab to announce water-soluble 3D printer filament this week
07.05.2015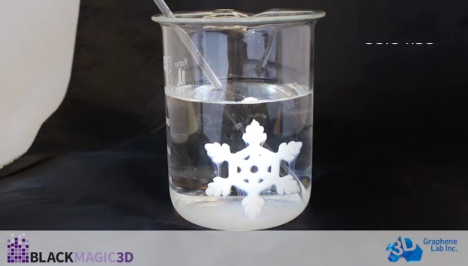 Graphene 3D Lab has announced today that it will present details on a newly-developed water-soluble 3D printer filament at the Canadian Manufacturers & Exporters' (CME) Canada Makes: Additive Manufacturing Forum at Mohawk College in Hamilton, Ontario on April 30, 2015.
Graphene 3D Lab's water-soluble filament is the latest addition to its line of specialty-functional filaments. Elena Polyakova, Chief Operating Officer of Graphene 3D, will announce details of this water-soluble 3D printer filament and discuss the effect of graphene-enhanced materials for the 3D printing industry.

Water-soluble filaments are suitable as support material for complex prints. These filaments act as support to allow overhangs, arches, etc. to be printed. They are most often used on 3D printers with dual extruders, with one extruder printing ABS or PLA material and the other printing water-soluble filament. Following the completion of the printing process, just place the object in water and let the filament dissolve.
Daniel Stolyarov, President and Chief Executive Officer, stated, "We are very pleased with performance characteristics that our R&D team designed into this new industry leading filament. This filament is completely environmentally-friendly, non-toxic, dissolves completely in water in approximately 1 hour, and leaves no residual material."
The water-soluble filament will work in most commercially available 3D printers and Graphene 3D expects to have them to market within 3 months. Daniel continues, "This filament reflects the core objectives of Graphene 3D. We are creating products that allow innovative designers to do more with 3D printing and are expanding the possibilities within the 3D printing environment."