Hovership releases MHQ2, updated design for 3D printable quadcopter frame
13.03.2015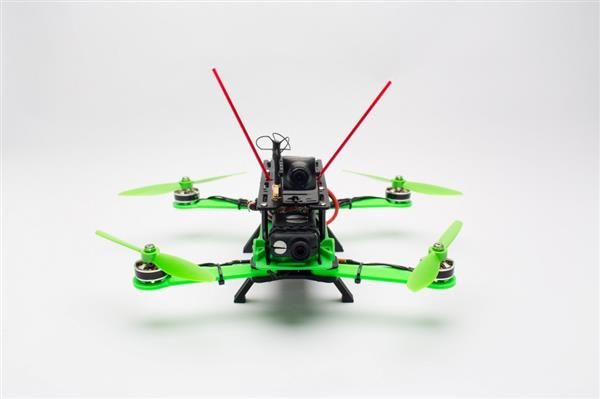 Active members of the 3D printing community will find it hard to avoid all the fun and cool designs for 3D printable quadcopters, but it's not surprise that they're so popular. What can be more fun than conquering the skies with something you made yourself?
But of all the designs we've seen in recent months, the 3D printable MHQ Quadcopter is still one of ones that sticks out most thanks to its no-nonsense design and modular potential. Mastermind behind this build is Steve, who also founded blog and webstore Hovership.com. For those of you who've never visited, it is a business that designs, manufactures and sells parts and accessories for various radio-controlled helicopters. They aim at DIY enthusiasts looking for low-cost but very cool designs, and they offer various guides to help you build your very own 'copters', such as tricopters, quadcopters, hexacopters and octocopters.

Since reporting on their Quadcopter in September 2014, they have already released an updated frame for their basic MHQ2 Quadcopter. 'Building on the success of the original MHQ frame, we have improved the functionality, durability and stability of this frame. The MHQ2 frame uses the same arms and hardware from the MHQ with the addition of 4x more 18mm screws and 4x locknuts,' they write.

Key new features of this update are a redesigned frame that provides better stability in the air, a more efficient design that sees the camera and battery move to lower center of gravity, improved landing gear and more modular options. Among them are mounting options for SMA extension cables, options for integrating GoPro and Mobius cameras and vibration dampeners. Perhaps most importantly, their new frame should offer more protection for your hardware during crashes (which you will experience at one point or another).

Now there are two ways to get your hands on this updated design. The first is to go to Thingiverse here, and simply download all the necessary STL files. However, you will need a print bed of at least 200 by 200 mm to 3D print these files, with the largest part being placed at a 45 degree angle, places diagonally on the bed. The Arms and landing gear should be printed with an infill of at least 75% (with two or three walls) while the plates can be 3D printed with an infill of 40% (also with two or three walls).

Alternatively, you can purchase a whole kit on the Hovership website, which will include the frame and the screws and little components you'll need to assemble it. Priced at $40, you will of course still need to purchase the motor, camera and batteries separately. Depending on your experience with 3D printed quadcopters, hovership advises the following builds:
Beginner pilots and lightweight FPV with a Mobius or smaller camera: 1804-2204 size 2300kv motors, 3-cell (3s) 1300-1800mAh lipo battery and 5" propellers
Beginner to intermediate pilots and FPV with a GoPro or similar action camera: 2204 size 2300kv motors, 3-cell (3s) 1300mAh lipo battery and 6" propellers
Intermediate to advanced pilots with GoPro or smaller camera: 2204 1960kv motors, 4-cell (4s) 1300mAh lipo battery and 5-6″ propellers.
The building process itself is fairly straightforward for those with previous experience, but it will be best in any case to keep an eye on their quadcopter construction guide that you can find here. You can check out the finished build in action below.