HP wants to rewrite the rules of 3D printing with new 'Multi Jet Fusion' tech
30.10.2014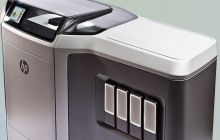 Hewlett-Packard has revealed today a new large, industrial 3D printer and the Multi Jet Fusion technology. HP Thermal Inkjet printing is "opening up new possibilities beyond existing technologies to enable a whole new vision for the future of 3D printing," HP says.
The computer and printer giant claims that the new 3D printing technology is 10 times faster than that in existing 3D printers.
HP Multi Jet Fusion technology is built on HP's knowledge in inkjet printing, inks and jettable agents. As with many 3D printing processes, HP Multi Jet Fusion starts by laying down a thin layer of powdered material across a build area. Then, the carriage containing an HP Thermal injet array passed from left-to-right, printing chemical agents accross the full working area. The technology uses a unique multi-chemistry process, including a fusing agent that is selectively applied where the particles will fuse together, as well as a detailing agent that is selectively applied where the fusing action needs to be reduced or amplified. As one example, the detailing agent reduces fusing at the boundary to produce parts with sharp and smooth edges.

The process continues, layer by layer, until a complete part is formed.
The HP Multi Jet Fusion uses a high-resolution print bar with 30 nozzles to print. It can place 350 million drops per second at 21 micron precision, according to the company.
The Multi Jet Fusion is capable of "delivering fully functional parts with more accuracy, finer details and smooth surfaces, and able to manipulate part and material properties, including form, texture, friction, strength, elasticity, electrical, thermal properties and more."
Over time, HP plans to incorporate a full range of colors into a part, using HP color science expertise to bring the color capabilities of traditional printing into the 3D world.
Availability of the end-to-end HP 3D printing system is planned in 2016.
"As we examined the existing 3D print market, we saw a great deal of potential but also saw major gaps in the combination of speed, quality and cost," said Stephen Nigro, senior vice president, Inkjet and Graphic Solutions, HP. "HP Multi Jet Fusion is designed to transform manufacturing across industries by delivering on the full potential of 3D printing with better quality, increased productivity, and break-through economics."