Intel plans to bring to market 3D printed robot this year remained in force
02.06.2014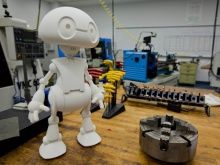 Back in September 2013 at Maker Faire in New York Intel futurist Brian David Johnson promised that in 2014 enthusiasts interested in creating their humanoid robot will get that opportunity, and that will be relatively inexpensive due to 3D printing details.
At Code conference, Intel CEO Brian Krzanich again demonstrated robot Jimmy, who can walk, talk, move hands, dance and even send tweets. Intel believes that this is where the future of domestic robotics lies. This year the company will launch $1,600 set for robot assembly, some of its details are to be 3D printed. Another research version will cost $16,000. A cheaper option would be based on energy-efficient platform Intel Edison, and expensive version will be based on Core i5processor.
Files for printing plastic parts will be available for download at company website, and the set will consist of components that cannot be printed: motor, battery, CPU, cables and so on. Thus, those dreaming of a personal robot, now have this opportunity, and it is relatively inexpensive.
Since the robot created on Open Source principle, users will be able to download and in accordance with their ideas modify the robot, and developers will be able to create their own applications. The idea lies in creating the most universal humanoid robot that can perform a variety of functions.