Italy's LIUC University Opens the First MakerBot Innovation Center in Europe
06.05.2015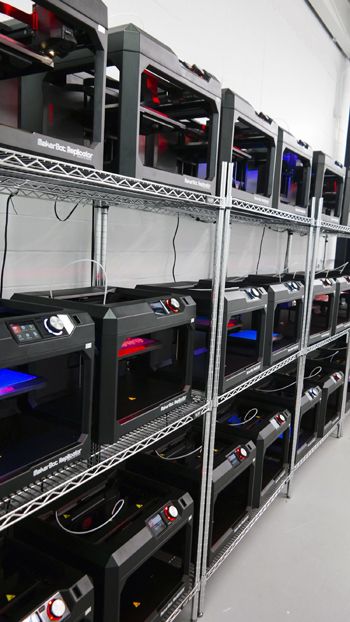 While it is true that MakerBot has laid of part of its staff and closed shops in the US, it is equally true that the Stratasys-owned, Brooklyn-based company has been expanding significantly overseas, in Asia, South America, and particularly in Europe. Here, with Alexander Hafner's leadership at MakerBot Europe, the company has been leveraging its MakerBot Innovation Center which, as Hafner himself had explained to 3DPI, would be key to his growth strategy.
The first results are starting to emerge with the announcement of the firstMakerBot Innovation Center to be opened at Università Cattaneo LIUC in Castellanza, a small town in the province of Varese, a very industrialised area of Northern Italy. It will be the first such facility in Italy and the first in Europe, as well.
"The opening of the MakerBot Innovation Center will represent a great chance to empower students, faculty and professionals to innovate, keep pace with developments and will prepare students for the business challenges of tomorrow," said Alexander Hafner, General Manager of MakerBot Europe. Hafner is clearly enthusiastic about the culmination of several months of work, finalised at a leading European academic institution that understands the advantages of integrating an advanced 3D printing center on their premises.
A MakerBot Innovation Center is a 3D printer farm that revolves around the MakerBot Innovation Center Management Platform, which helps to manage and link all of the machines, providing remote access, print queuing, and mass production of 3D prints. The LIUC Center includes 20 MakerBot Replicator 3D Printers (three Minis, 12 Replicators, and five Z18 3D printers). The 3D printer and technical support for the LIUC will be provided by Energy Group, one of Italy's top Stratasys distributors and MakerBot Gold Authorized Reseller.

Leveraging support from many local entrepreneurs, in a very high-development area of Italy, LIUC offers course programs in Economics, Law, and Engineering. Naturally, the engineering students will benefit most from this investment. "From next year our Engineering students will have the chance to challenge their skills in designing and manufacturing prototypes in the context of simulated startups," said Prof Luca Mari, Director of SmartUp – Digital Manufacturing Laboratory and Professor in the School of Industrial Engineering at LIUC. "The MakerBot Innovation Center," he added, "will allow us to continue and develop the activities carried out by SmartUp, giving our students a concrete opportunity for hands-on experience with the next technologies of digital manufacturing, which are increasingly part of the everyday lives of enterprises."
The SmartUp – Digital Manufacturing Laboratory project has been developed and supported by the Province of Varese at a public level and by the Unione degli Industriali della Provincia di Varese (the union of local entrepreneurs) on a private industrial level, with the goal of spreading digital manufacturing culture. Both institutions are also directly involved in the University's activities, in what is finally a great example of public and private sector collaboration cemented with the adoption of 3D printing. Two years ago, when America Makes began introducing 3D printing into US schools, with support from MakerBot, I hailed that initiative, hoping for something similar for the Old World as well. Finally, another great initiative from MakerBot in education is taking hold at a European level.