Japanese Designers Create a Huge Delta 3D Printer – 4 Meters Tall
14.07.2014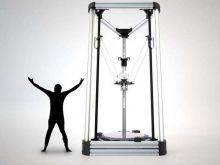 Recently we have been seeing a lot of innovative 3D printing technology coming out of Asia. The Chinese have been at the forefront of developing all sorts of unique 3D printers. Whether it was the 3D printed houses in China, the development of Chinese fighter jets, using 3D printers, or China's recent 40x40x40 foot 3D printer that can print in graphene, they seem to be one step ahead of the rest of the world. One Asian country that we haven't really heard much about, pertaining to 3D printing, is Japan. We know that there is a lot of development and use of 3D printers in the country, but we haven't really seen all that much innovation come from the island nation.
That may be about to change though. A company called Genkei, which has been designing personal 3D printers in Japan for quite some time now, as well as individuals from the Tokyo University of Arts and Design, have developed a huge 4 meter (over 13 foot) tall delta 3D printer. This printer will be on display at the Tokyo National University of Fine Arts and Music Museum, as part of an exhibit that runs from Saturday, July 19 until Friday, August 8. The exhibition is titled "Materializing II" (マテリアライジング展Ⅱ).

The team is currently assembling this gigantic printer at the museum, where they plan on attaching a working extruder within the coming week. "It will be dry running in 3-5 days and hopefully test printing in a week," said Hironao Kato, one of the project designers.
As far as we know, this is the largest delta 3D printer ever built. Even though I could not confirm this, the company is claiming it to be the case. Delta 3D printers are based off of the design for delta robots. These, unlike traditional gantry style 3D printers, use 3 robotic style arms, attached to the printer's frame, in order to move an extruder to print (as seen in the video below). Delta robots were developed in the 1980′s in order to aid in the manufacturing of various products. Recently 3D printer manufacturers have taken the idea and applied it to today's 3D printing technology.

While most FDM 3D printers today use spools of plastic filament as their "ink", Genkei and team have different plans for this 3D printer.
"I want to use pellet extrusion for the production if we get orders, but this will use [a] wider dimension of nozzle with normal PLA filament," explained Kato.
If you watch the video below (courtesy of Genkei), you will see that the movement of the printer seems to be working quite well. There is no reason to believe that it won't be able to print once an extruder is added this coming week. With this said, the movement seems to be a bit on the slow side. It would take quite some time to print anything of significant size. This is of course unless Genkei is planning to speed things up once they move further along in the setup process.
What do you think? Do you think a printer of this size could be used for anything in particular? Discuss in Japan's Huge Delta 3D Printer forum thread on 3DPB.com. Check out the video and some more photos of the printer being set up below: