Jewelry Designers 3D Print Amazing Jewelry out of Paper, Thanks to Mcor 3D Printers
15.07.2015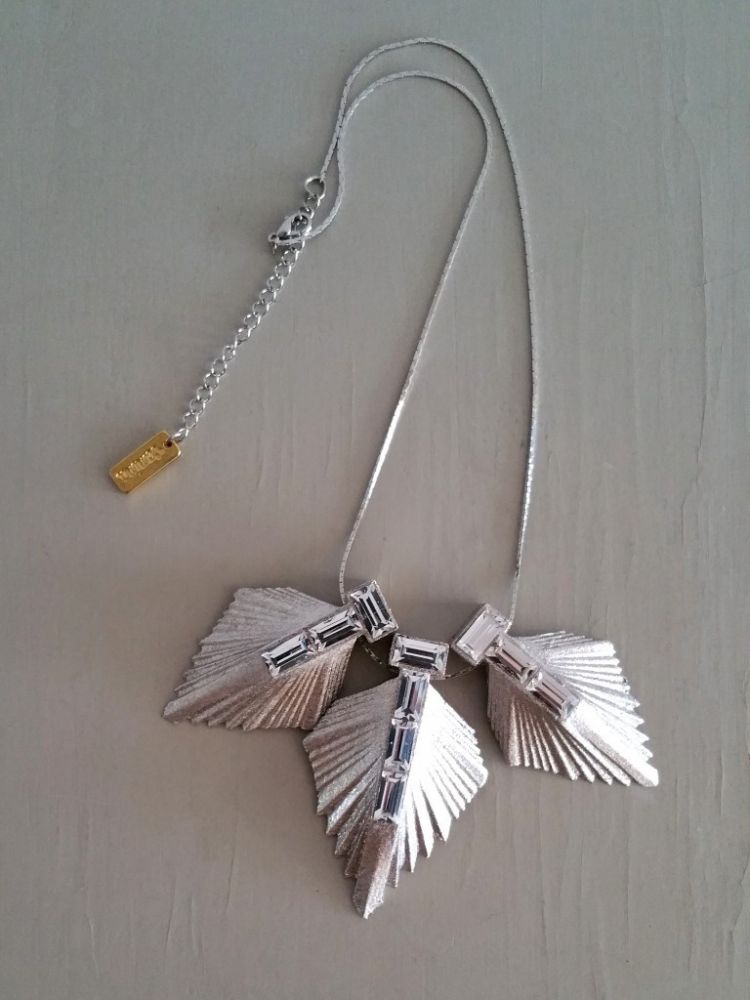 I've been covering the 3D printing space for quite some time now, so my fascination with watching a 3D printer in action has somewhat worn off. However, whenever I come across one of Mcor Technologies' paper based 3D printers, such as the IRIS HD or Matrix 300+ at trade shows, I still can't resist the temptation of watching one of these machines in action. Usually it's Mcor Director of Marketing, Julie Reece, who is on hand to show me some of their latest and greatest 3D printed objects, and I always walk away saying, "Wow!".
Recently, however, one artist named Joanne Hayek, and her company, VANINA took things to an entirely new level with the creation of 3D printed jewelry. VANINA is known for the creation all kinds of unique jewelry, much of which is made out of paper, specifically the devalued Lebanese Lira. Recently, Hayek and her partner Tatiana Fayad decided to begin utilizing 3D printing in their creation of jewelry, and the printer that they chose was none other than an Mcor machine.
"Mcor is a great tool for us as a fashion brand. It allows us to expand our exploration of new methods of reuse by using digital fabrication techniques in tandem with traditional handcrafting," Joanne Hayek explained.

Mcor was chosen as a means for Hayek and Fayad to continue using paper in their unique jewelry creations, but also to allow them to integrate digital fabrication into their designs for their new "Conceptual Jewellery" collection. At the same time it helped open up plenty of new doors when it comes to the fabrication of unique designs.
"The starting point for the design was the idea of using paper as a raw material, which could be transformed into a new object, and thus carry on a second life," explained Hayek. "Taking it a step further, we chose to work with used papers, in line with our environmental policy that focuses on raising awareness about waste management issues and maximising reuse in our collections."

The designers wanted to use natural geometries found in tree leaves as the basis for their designs, so after carefully researching various options, they used Rhino 3D and Grasshopper to model out their new jewelry pieces on their computers. Then this data was sent to the Mcor 3D printer where the it proceeded print out the designs using nothing but adhesive and reused paper. The team made several prototypes of their creation before settling on a final product. Both the prototypes and the final pieces were printed on the Mcor machine.
"The high resolution of the Mcor 3D printer is suitable for our detailed needs and enables us to build shapes that are self supporting, allowing for spans without requiring temporary supports, as is the case with resin- and plastic-based 3D printers," explained Hayek. "We adopted an iterative design process, which allowed us to optimize and calibrate the pieces based on the specifications of the 3D printer. Various rounds of prototypes were made to ensure we were working in line with the minimum thicknesses of the machine in order to resolve details such as piercing through the pieces to allow for chains and earring bars, edges of the leaves, and more."
The jewelry designs, as you can see, turned out exceptionally well. Even though Mcor's line of 3D printers are able to print in full color and create incredibly strong end-products, some post processing was done to the jewelry to give it a more "finished" look. The pieces were treated with various solutions to provide for increased strength prior to being painted with sparkling paint.

The "Conceptual Jewellery" line's "Leaves" collection consists of six necklaces and three pairs of earrings. They will be available to purchase from VANINA's website in the near future, as well as boutiques and other stores in Paris, Florence, Milano and Hong Kong. Currently VANINA is producing about 100 pieces per month which utilize approximately 1500 reclaimed pieces of paper. The plan is to eventually produce up to 1000 pieces per month in the near future.


"Another reason we were able to use Mcor 3D printing is because of the availability of the machine in Beirut at Arab Printing Press (APP) and the great customer service of both APP and MoreThanPrinting (MTP), Mcor's representatives who introduced this affordable 3D Printing technology to the Middle East and Africa," said Hayek. "We believe Mcor is a great tool for us as a fashion brand. It allows us to further expand our exploration of new methods of reuse by using digital fabrication techniques in tandem with traditional handcrafting."