How Russian inventions improved the realm of additive technologies: 4 cases studies
03.08.2018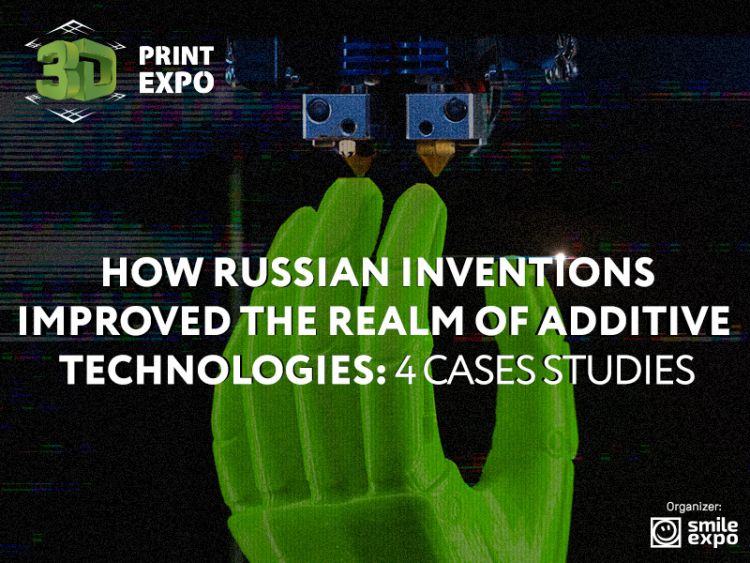 Additive technologies can be described as a method of things creation using a 3D printer. It's also called 'growing': 3D printer overlaps materials, so it looks like a detail grows by leaps and bounds. What are pros of additive technologies and what successful examples does Russia have?
3D printing and its pros
Additive technologies bring the manufacturing process to a new level, which modern companies understand. In 2014, only 49 companies produced 3D printing systems while in 2017, the number reached 97.
Russian developers currently contemplate 3D innovations, which can be explained by a range of reasons:
• additive technologies allow to control the volume of materials thus preventing their excess expenditure;
• 3D printer can produce a detail of any geometrical complexity;
• compared with the usual manufacturing process, 3D printing is less time-taking and more energy-effective.
All these features can come in handy in the variety of spheres: from medicine to astronautics.
That is why the Russian government actively propels the development of this sphere. By order of the authorities and the Ministry of Industry and Trade of the Russian Federation, in 2016, FGUP 'VIAM' (Federal State Unitary Enterprise 'The All-Russian Institute of Aviation Materials') elaborated 'The work plan on the additive technologies development and introduction in the Russian Federation within 2018-2025'. More than thirty companies took part in its creation, including the Rosatom State Corporation, Roscosmos, and Rostec as well as country's leading higher educational establishments and Russian Foundation for Basic Research.
Here are the results of the joint work. Look at the latest Russia-born innovations for the development of additive technologies.
Case study 1. Bioprinting
According to Russian scientists, 3D printing is prospective for the healthcare segment. For example, scientists at the Institute for Regenerative Medicine, I. M. Sechenov First Moscow State Medical University, currently develop own biomedical 3D printer. They cooperate with Chinese colleagues from the children's hospital at Chongqing Medical University.
Today's enthusiasts aim to learn 3D printing of cartilages and joints. What bustles scientists is the high risk of graft rejection. In this case, not only a reoperation is needed, sometimes a loss of time can lead to death.
3D printing itself appeared to be a way-out. 3D base matrices are infused with patient's native stable cells, so a tissue cannot be rejected.

Case study 2. Here comes space
Modern 3D bioprinters cannot work properly without a carcass – a polymeric matrix that prevents the material from falling apart and overheating.
Notwithstanding its high importance, carcass is also the most dangerous detail: it emits many toxic materials. So, astrophysicists were invited to enhance the 3D printing technology.
Within 2010-2017, a series of experiments on the Coulomb crystal installation was carried out on the Russian Orbital Segment (ROS). Its aim was to control small charged particles under zero gravity. The experiment showed that 3D structures can be selected from thousands of cells using magnetic levitators and Gadolinium atoms (anti-gravity particles in space systems).
The technology is currently undergoing the first tests. As for the achievements of today, scientists used an improved 3D printer to produce miniature balls of sheep's cartilage cells. However, the device is expected to be used in medicine.
Case study 3. Aviation and 3D printing
Russian aircraft manufacturing is also on the brink of the 3D revolution. Due to the cutting-edge solutions, airplanes can be repaired without welding.
However, gas or laser welding leads to strong thermal strain, which has a negative effect on mechanical specifications of a construction.
Along with the Lyon-based colleagues, the Institute of Ecotechnologies and Engineering at the National University of Science and Technology 'MISiS' offer to avoid metal heating to the melting point. 3D modeling allows to grow a worn or damaged detail on site.
Due to the scientific achievements, the most expensive part of a plane – engine – can be repaired with no replaced details. It's cheaper, faster, and what is very important – increases the plane lifespan.
Case study 4. New type of plastics
We now have a number of 3D printers and even more materials. They mostly cannot be combined with each other. For example, when heated, irrelevant plastic can fill in a 3D printer head, which leads to breakage.
Puzzled by this problem, a resident at the Moscow-based Kalibr Science Park presented universal PLA plastic compatible with any 3D printer. The material still doesn't have analogs across the globe.
"PLA plastic is biodegradable and thermoplastic polyester produced even from potatoes and corn. The material is non-toxic and easily utilized. At Kalibr, we altered the plastic properties: it became heatproof, non-sticky, it doesn't fill in details of a device," told Mikhail Kogan, Chairman of the Board of Directors at Science Park.
As of 2018, the companies in the European Union and Russia ordered 1.5 t PLA plastic produced by Kalibr.
The material is already used by pupils and students to learn 3D printing, engineers and designers – to produce patterns.
---
Russian developers keep track of the news in the 3D printing universe. Moreover, Russia is a place where unique solutions for the improvement of additive technologies are created. We have something to show: join us at 3D Print Expo scheduled for October 12-13 in Moscow to check this out.