Types and Application Areas of 3D Printing Materials
30.09.2019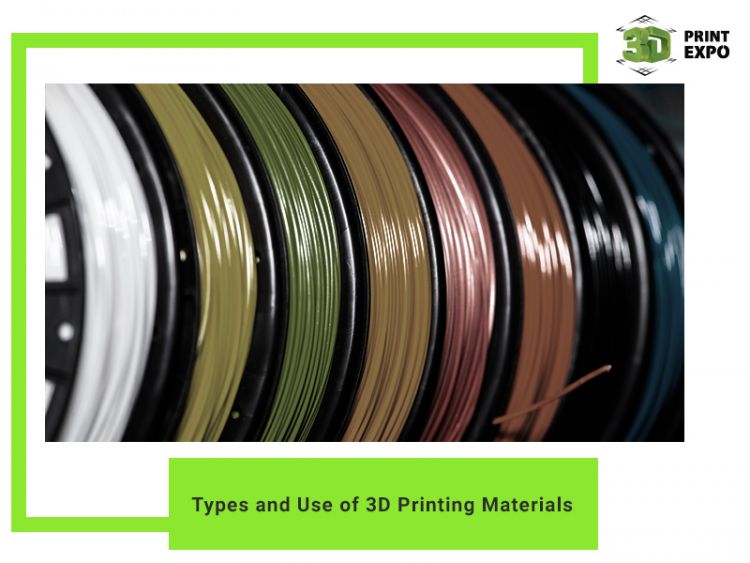 Modern 3D printing materials have different characteristics, durability, adoption, and some of them even have exotic characteristics, for example, conduct electricity. What are the types of 3D printing materials and for what purposes are they used?
The most popular materials
The most popular 3D printing materials are PLA and ABS. They are the most known filaments with highly researched properties. These plastics differ in strength and simplicity of use and in general, are not similar in qualities. For example, PLA is a biodegradable material meaning that it is more ecologically friendly.
Peculiarities of PLA
PLA plastic is the most convenient in the home use: it has low printing temperature, it does not come off the print bed, and it is good to use in simple printers not equipped with a heated surface. Another advantage is that this material produces almost no smell.
Characteristics:
high strength;
simple to use;
printing temperature 180-230 °C;
low shrinkage;
does not require heating the surface;
insoluble;
ecologically friendly.
Application areas of PLA in 3D printing
Specialists use PLA to print prototypes, souvenirs, models, containers, and many other things. This universal material suits a wide range of works apart from the production of items that will experience mechanical effect, be strongly heated, or bent. The reason is that PLA changes shape at the temperature of 60 °C, and is rather fragile, can damage from falling or hitting.

Peculiarities of ABS
In general, characteristics of ABS are a little better than of PLA, but it is rather difficult to use. For example, this plastic requires heating the print bed meaning that not every printer is compatible with it. ABS plastics are not often used at home compared to PLA. They are usually used in manufacturing (for example, LEGO elements are made of ABS).
Characteristics:
high strength and durability;
printing temperature – 210-250 °C;
require heating the surface up to 80-110 °C;
shrinks when cools down;
dissolves in acetone;
not ecologically friendly.
Application areas of ABS
This plastic is convenient and cost-efficient to use in manufacturing, good to produce strong parts that can endure mechanical effect and temperature drops. ABS plastic is used in the production of motorcycle helmets, phone bumpers.
PETG, PET, PETT plastics
In 3D printing, PET enjoys great popularity in European countries. It has high-performance characteristics that outperform ABS and PLA: wear resistance, strength, heat resistance. Besides, this material is easy to polish and dye, it does not undergo deformation when exposed to most of the solvents (ethanol, acid, alkali).
Characteristics:
strength, wear resistance;
pervious to light, bendable;
low shrinkage;
resistance to oils and chemical substances;
printing temperature – 210-230 °C;
print bed temperature – 80 °C.
Application areas of PET
The most common options are industrial use, production of parts, cases, protective items. Modifications of this plastic can insignificantly vary in shrinkage or stiffness, but all of them are insoluble and non-degradable meaning that they can be recycled (which is a benefit for manufacturers in terms of the material cost).
Peculiarities of Nylon
Nylon is a rather new material that stands out for permanence and strength. It is used in many industries including medicine and electrochemical industry. It is chemical- and wear-resistant, dyeable, and serves for a long time.
Characteristics:
flexible and strong;
medium shrinkage;
printing temperature – 240-260 °C;
print bed temperature – 70-100 °C;
insoluble, chemical resistant.
Application areas of Nylon
In medicine, this plastic is necessary to produce prostheses; in manufacturing, it is used to print prototypes. This material is also used for the work with CNC machines.
Peculiarities of TPE, TPU, TPC
This type of plastic for 3D printing is characterized by high bendability and extensibility. As materials bend and stretch well, it may be difficult to work with some of their modifications, especially at home. For this reason, when you are choosing these filaments, carefully read the description. For example, TPU is notable for higher firmness, which is convenient in use.
Characteristics:
very flexible and durable;
not all types are simple to use;
printing temperature 210-230 °C;
sometimes require heating the print bed;
low shrinkage;
insoluble.

Application areas of TPE
This material boasts high strength. It is resistant to blows, environmental impact, and mechanic damage. It is used to produce shoes, bendable parts, and covers for equipment.
Peculiarities of HIPS
HIPS is ecologically friendly and resistant to mechanical impact, convenient as a base for printing items. It is soluble, biodegradable, and harmless. It can support complex printed items in the process of production and later is removed using acetone.
Characteristics:
strong and flexible;
medium shrinkage;
printing temperature – 210-250 °C;
print bed temperature – 50-100 °С;
soluble.
Application areas of HIPS
The material does not deform or shrink meaning that it excellently suits the purpose of prototyping and production of complex structures. It well conveys set parameters, is convenient to use in machines with several extruders.
Other materials for 3D printing
Apart from plastics, different industries use standalone materials to produce target products. For example, concrete in construction or precious metals in gold work. Besides, materials for 3D printed food are widely used: chocolate, sugar, table spread.