Kinematics creates natural flowing 3D printed dress
15.12.2014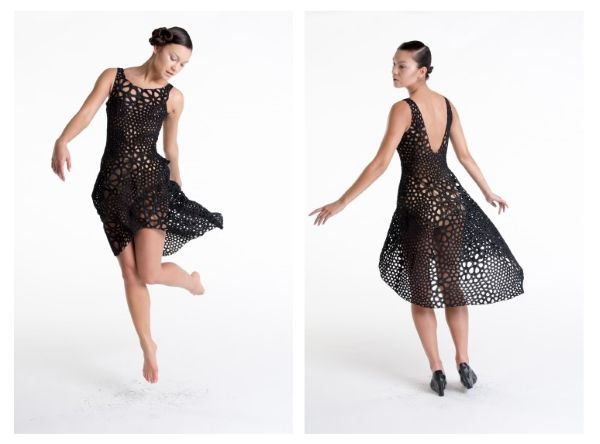 Since hitting the 3D printing scene in 2007, design studio Nervous System has been helping push additive manufacturing forward with a variety of applications and future-forward aesthetic directions in everything from jewelry to home goods and even apparel design.
The studio, which is located just a few miles from MIT in Somerville, Massachusetts, was founded by Jessica Rosenkrantz and Jesse Louis-Rosenberg. While Jessica focused primarily on architecture and biology while at nearby Harvard, Jesse focused on mathematics. Together, the two lead a team of seven and have brought the best of their skillsets into some of the most impressive biological and mathematics-inspired 3D printed applications ever brought to fruition.
More recently, the two teamed up with Shapeways and have used their unique Kinematics Cloth 4D printing system to create a 3D printed dress that was acquired by the Museum of Modern Art (MoMA) in New York City to put in their highly-coveted permanent collection.
The Kinematics system, which uses algorithms for generating complex and foldable forms, enabled the team at Nervous to create a single-print 3D printed dress that intelligently minimizes material to create a finished plastic product that flows like fabric.
In order to ensure that the dress was comfortable, Rosenkrantz wore various 3D printed items on her body for weeks at a time as a way to prototype any discomfort that might arise with a full-body 3D printed wearable. Once she had established how to iron out any kinks related to discomfort, she approached the design of the dress similarly to a traditional dressmaker...however instead of cloth her medium consisted of 3D printable components and rather than a dress form, she used a digital 3D body scan.

Once the final design direction was made, the next design challenge was to work with Shapeways to determine both how to best work with the natural properties of 3D prints as a whole, as well as the best way to print the entire dress as one folded and assembled piece.
With some fine-tuning adjustments to their software, Nervous was able to both control the grain of the prints for consistency as well as control the 'fold' of the print while it was being printed. Ultimately, rather than bunching the dress assembly into random folds that proved to be a technical challenge for the volume of the 3D printer, they determined that a neater folded position---similar to how you might neatly fold the dress to place in storage--was optimal for a 3D print that consisted of as many individual components as the dress.

After two days of continuous printing inside of one of Shapeways' selective laser sintering (SLS) printers, the complete and neatly-folded dress assembly was cleaned of any powder remnants from the printer and was ready to be worn as-is or dyed (in this case, black) directly out of the printer.
"Bodies are 3-dimensional but clothing is traditionally made from flat material that is cut and painstakingly pieced together," the duo said in a recent blog post. "In contrast, Kinematics garments are created in 3D, directly from body scans and require absolutely no assembly. We employ a smart folding strategy to compress Kinematics garments into a smaller form for efficient fabrication. By folding the garments prior to printing them, we can make complex structures larger than a 3D printer that unfold into their intended shape automatically."
The final custom-fit dress consists of 2,279 unique triangular panels that are interconnected by 3,316 hinges. The entire piece was 3D printed with one print in nylon at Shapeways' NYC-based manufacturing facility.

While the dress is gaining a lot of attention, it isn't the first to leverage Nervous' Kinematics modeling system.
In November of 2013, the team released the original Kinematics generative modeling engine as a platform that allowed individuals with access to a 3D printer to create their own cohesive personal jewelry collection based off of customizable variables.
For Kinematics Cloth, the team incorporated data from Body Labs to lay their Kinematics engine over custom full-body 3D scans of humans... which is the same technology that is currently being used to create custom body armor for females in the US Army.
Despite being considerable cheaper than other full-body 3D printed garments, the $3,000 price tag is still out of reach for a larger population than Nervous would prefer. Their next goal is to iterate on their design and bring the price down before they start officially selling the design.

In the meantime, they are also looking at ways of improving the speed and mechanisms of other additive manufacturing methods in an effort to mimic more cloth materials.
"To 3D print structures in this crazy compressed form and have them unfold; that almost sounds like science fiction," told Wired. "Frankly, when you work on something complex like this in a completely digital world for so long, the biggest surprise is that it actually works as intended, from the compressing to the fit, draping, and movement."
If the $3,000 price tag doesn't bother you or if you're interested in experimenting with a dress design using a 3D scan of your own body, you can head over to Kinematics Cloth to learn more and start customizing your design.