Who is the best representative of 3D printing this year? Come to 3D Print Awards Ceremony and find it out
15.09.2017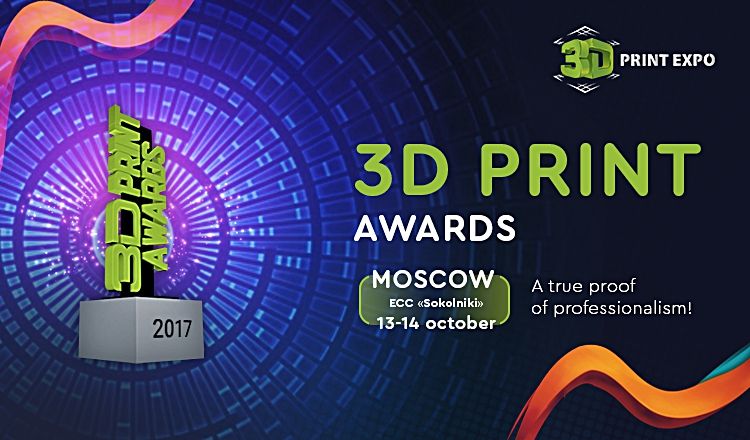 On October 13, 3D Print Expo 2017 will host the fifth annual award ceremony for the leading 3D printing market players – 3D Print Awards. If your company develops or uses additive technologies, then it has every chance to get the most prestigious award in the field of 3D printing.
Who will get the precious statuette? Winners in all nominations, except for the Best News Resource, will be determined by our honorary judges, and the names of other triumphants will be announced on the day of the ceremony.
If you want to become the best representative of the 3D industry, apply right now!
Categories
News resource
The media portal, which you believe to be the best in covering the achievements of the 3D industry! The online voting form is available on the event page. Voting is open for everyone!
Exhibition stand
The winner will be the exhibitor, whose stand will be the most original and interesting.
Brand
Judges will choose a company whose marketing strategy for promoting 3D products is the most effective.
Innovative project
An innovative 3D project scored a big win and became successful? Most likely, this company will go home with a prestigious award.
Development
Unique technology, optimization of existing solutions, ready-made 3D product - the jury will appreciate the development, thanks to which 3D production has become easier, better and cheaper.
3D printer manufacturer
The winner will be selected among Russian manufacturers of 3D equipment. The company that provides impeccable service and technical support will benefit.
Manufacturer of consumables
The producer of the best materials as for price and quality will win here. How to choose this one? Such consumables are always in demand by consumers!
3D scanning and modeling
The company digitizes the reality quickly and qualitatively, and then creates realistic three-dimensional objects in 3D editor. Probably, it should come to the ceremony for the award.
Beginner of the Year
The statuette will be taken by the most active and successful startup, the development of which caused a furor on the 3D printing market.
Do not miss the most vivid activity of 3D Print Expo 2017! Register and come to Sokolniki ECC on October 13, 2017.