The Laser Girls Rocking 3D Printed Nails at MAD in NYC
25.01.2014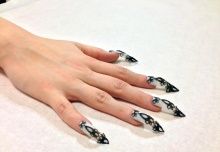 The Laser Girls are this week's Shapeways Designers in Residence at the MAD Museum in NYC. Drop in to say hello and check out their future fresh 3D printed nails. Acrylic nails in the 3rd dimension...
The Laser Girls are Sarah C. Awad and Dhemerae Ford are two artists/designer based in NYC, you can buy their 3D printed nails from The Laser Girls Shapeways Shop. Dhemerae is also one of our featured Designers for Hire on Shapeways, capable of helping you bring your ideas to life with 3D printing.
Check out the video awkwardly shot at the Museum of Arts and Design complete with concrete stairwell reverb.