LazeeEye wants to turn any smartphone into a 3D Camera
16.04.2014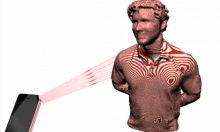 Nowadays most of us just use our phone to take pictures, but we can only take 2D photos because it has only one camera. Now LazeeEye wants to take your smartphone photography into a new dimension.
The LazeeEye upgrades your smartphone for use as a 3D camera, using a laser illuminator hardware add-on and a stereo vision processing app. Basically it lets your existing smartphone camera see in 3D - think of it as your camera taking a picture by looking at a scene from loads of different angles and dimensional depths rather than just one.

The name "LazeeEye" is a combination of "laser" and "eye," indicating that your phone is provided with a second "laser eye" - an eye that lets your smartphone camera see in 3D just like you can.
But what can you do with a 3D picture? The team points out that you can remove and replace the background scene from photos, change the angle or lighting, perform a variety of photo editing and even implement augmented reality games.
LazeeEye is still in its prototype stage, so there aren't many images of the device itself online. But the LazeeEye's makers want to put 3D mapping tech within reach of a lot more people. They claimed the LazeeEye could be plugged straight into your existing smartphone and it would cost very little extra money.

But how is LazeeEye different from existing products? "In short, it is smaller and it is cheaper... says the Kickstarter pitch. "It uses existing components that are already mass-manufactured […] for the laser illuminator, and […] it utilizes the low-power/light-weight processing and high-resolution camera that already exists in millions of smartphones."
LazeeEye is currently seeking crowdfunds via Kickstarter. Its Massachusetts-based makers, Heuristic Labs, are requesting a hefty $250,000 to support its development work. They still need to improve the hardware design and optimize their algorithms and software.
The LazeeEye project has many similarities with Google's Project Tango prototype smartphone, which was unveiled in February. While Project Tango could cost $500, and 3D sensor from Occipital costs circa $350, LazeeEye offers a $50 DIY kit for the DIY-ers, and $75 with components pre-assembled and pre-tested. There are also more expensive version, $125 or $150, for lasers with different nanometer wavelengths.
If they hit that goal, the product should be ready to ship to Kickstarter backers by June.
Source