Leading international 3Dprinting service iGo3D at3D Print Expo
02.09.2014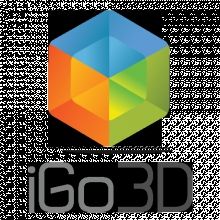 3D printers, 3D scanners and modeling software are dynamically evolving and becoming more and more interesting and accessible technologies for personal purposes.
Large variety of anything you might need for 3D printing - 3D printers, 3D scanners, accessories, software and many more can be seen at 3D Print Expo to be held in Moscow because company iGo3D - leading international 3D printing service is taking part in the show.
iGO3D operation is entirely dedicated to 3D printing technologies and their application in everyday life.
IGO3D experts claim to be able to print everything. For example, tools and accessories for home, toys for kids, promotional products, interior decorations, etc.
iGo3D offers everything you may need for printing projects in 3D, and the company is constantly expanding its range of products offered.
You will have an opportunity to check what experts of iGO3D can do at 3D Print Expo to be held on 23-25 ​​October 2014 in ECC "Sokolniki"; the show will bring together the best industry representatives to demonstrate amazing 3D printing and scanning technologies.