Luna modular Bicycle is 3D printed on demand, no stock required
10.12.2014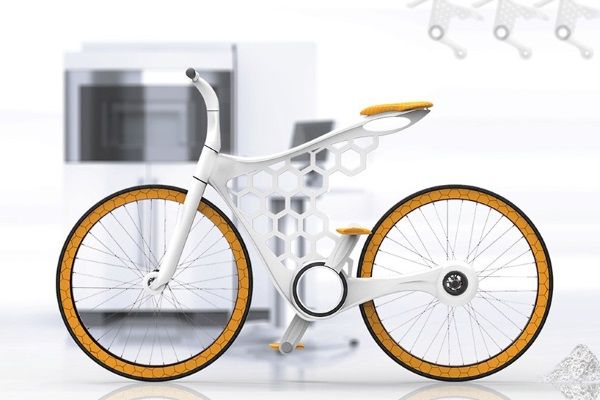 3D printing technology is many things, from efficient, to flexible, to revolutionary, and it can be used to produce a myriad of innovative objects. But is it a transportation technology? I would've always answered "no" to that question, as it's an especially useful technology for smaller objects, but not so much for larger ones that need to endure a lot of force or face any type of weather.
However, the London-based designer Omer Sagiv is making me regret my former certainty with his latest design: the Luna 3D printed bicycle, a clever and futuristic ensemble of solid 3D printed parts and regular bicycle components (specifically, wheels and a few mechanism parts) that aims to be as flexible and repairable as possible without taking up storage space.
Its designer, Omar Sagiv is an (industrial) designer focusing on futuristic and technological breakthroughs aimed at the intersection of art and design: 'one is totally about you, the other is totally about others.' And it's obvious how his Luna Bicycle fits into that picture, as it's a type of functional artwork. He has previously worked on a host of similar concept, though few rely on 3D printing.

His Luna Bicycle has been realised featuring a large variety of 3D printed parts, relying on different technologies. The artistic framework, for instance, has been 3D printed in nylon (presumably through FDM technology), while a most metal components have also been produced using 3D printed technology. These include the handle bars and the front fork of the frame, which have been printed using SLS 3D printing technology.

The idea is that these 3D printed components come together as a solid, secure, customizable and affordable bike. The chosen design makes the bike lightweight, yet solid and durable and the frame can feature any color you'd like. And while you and I might assume that this reliance on (SLS) 3D printing drives up the price, Sagiv is confident that the large number of traditional parts and low storage costs easily make up for that.
But it's largest advantage is the bike's modularity. While bicycles are usually ready-made and stored in large numbers, the whole concept of the Luna Bicycle works a bit like the printing-on-demand publishing principle. Choose the model or customization you like, and it's assembled and printed in a matter of hours, and delivered to your home. This way, it can feature any size or design you prefer, and producers won't have to spend thousands on storing a particularly large bike in a certain color, on the off-chance that a giant of a man is looking for a purple bicycle. Only the parts that every bike relies on, like tires, bicycle chains and brake mechanisms, are made beforehand.

While I have my doubts about the financial side of this concept – is it really cheaper to buy an SLS printer for every bicycle store? – but that doesn't diminish its ingenuity. For it combines all the advantages of 3D printing into a cost-saving principle with a gorgeous design. While there's no word on whether or not there are any plans to take the Luna Bicycle into production in the near future, it would be very cool to see.