MadeSolid's new PhoenixCast resin for SLA 3D printers, taking pre-orders
27.03.2014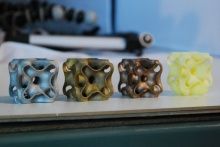 Frustrated with failed prints and the limitation of slim color selection, MadeSolid, a YC-backed company out of Emeryville, CA, is doing R&D to create high-quality resins with unique properties for your 3D printer.
MadeSolid is currently developing a resin suitable for investment casting. The resin is compatible with a number of SLA printers including the Form1, the B9 Creator , the Muve3D and more. The team said they have printed and casted a number of different formulas and they are near completion of the best version.

The Investment Casting Resin has a low viscosity making it easier to work with, and it is formulated to leave no ash or residue after burnout.
MadeSolid is taking pre-orders for the Investment Casting Resin, the current price is $199 for 500g. The company expects to start a small run at the end of April and to start shipping in May.
MadeSolid has been developing a variety of new products such as MS Resin and PET+ Filament for 3D printers. It launched line of SLA resin on indiegogo in 2013 to raise $15k for raw materials, and was successfully funded. Its MS Resin is less viscous than most other resins and is easy to clean out from vats. The final surface texture has a unique matte finish. For the indiegogo campaign, MadeSolid has added four colors for UV curable printer: black, white, pink and blue. The white resin can be used by architectural firms, while the black is great for showing the contrast of different parts of a build. The MS Resin is priced at $99.99 per liter.
In December 2013, the company launched PET+, a strong and flexible material for FDM 3D printers. The PET+ is derived from a different strain than existing PET filaments on the market. It is stronger than many ABS filaments and more flexible than ABS or PLA. It has the high print success rate with very little shrinkage during the printing. The PET+ doesn't absorb water like nylon does and it is 100% recyclable. The PET+ is priced at $34.99 / 1 lbs spool and can be used with Type A Machines, MakerBot printers and other extrusion based systems.
Check out the video below that MadeSolid compares PET+ with ABS and PLA.