Make the mini selfie for your wedding cake - with 3D printing
25.01.2014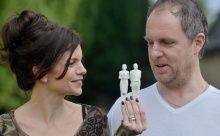 The 3D mini statues of Emily and Carl Ogasthorp were the talk of their Oxfordshire wedding. These 3D printed selfies – or 'threlfies' – were created by the couple's friend and technology expert Steven Dey and used as bride and groom cake toppers. In order to create an accurate likeness, the Ogasthorps stood on a Lazy Susan and were scanned using a homemade scanner which uses the same technology as the Xbox Kinect. The scan took a mere 20 seconds; the data from the scan was then used to print the couple in miniature on a Ultimaker 3D printer which took around two hours at 0.1mm resolution. Upon completion, these 3D selfies were placed on top of their cake and became the talk of their wedding reception which took place at Blenheim Palace in Oxfordshire.

According to The Oxford Mail, Mr and Mrs. Osgathorp have four children between them and were married at St. Peter's Church in Cassington after meeting five years ago. Mrs. Osgathorp, found the likeness incredible: "It was great. When it was on the cake everybody was like: 'Oh, my God that is you?' It was so instantly recognizable that it was us."

Mr. Dey, the maker of the 3D wedding selfies is reported to have been satisfied with his creations and their popularity at his friends' wedding:"It caused quite a stir. I guess it is something a lot of people haven't seen before... There is an interest in 3D selfies. After doing my friends and their kids, other people have started asking for it. Doing 3D selfies is a new thing. There are not many places in the world doing it."