Maker Shed Begins Selling HP Sprout & Dremel 3D Printer Bundle
26.06.2015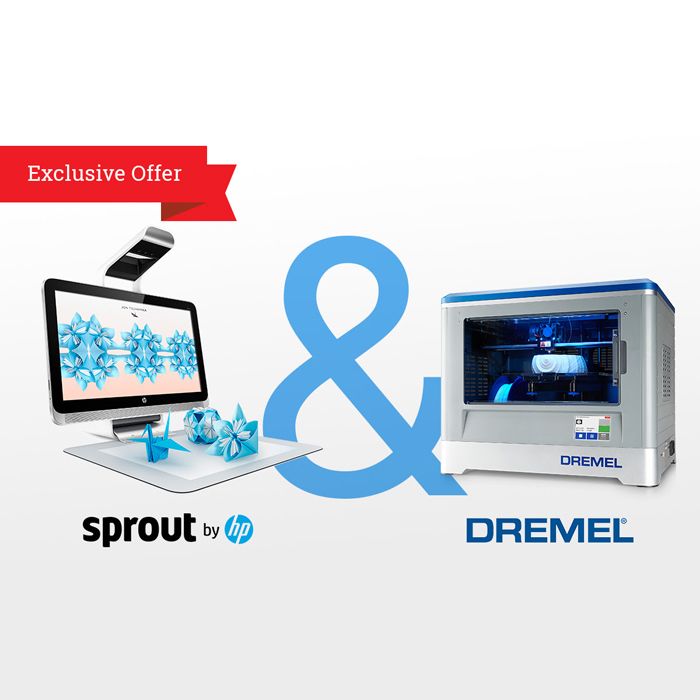 As foreshadowed at this year's Bay Area Maker Faire, HP and Dremel have teamed up to offer a new product bundle that combines the Dremel 3D Idea Builder and the HP Sprout, 3D scanning, touch-controlled computing system. While both products are being sold separately in the Maker Shed, as well, from now until June 24th at midnight, Maker Shed customers can purchase the two products together at $200 off.
The HP Sprout is the electronics manufacturer's first foray into theblended reality/reality computing space, which is in the process of being established alongside companies likeIntel, Autodesk, Microsoft, and 3D Systems. Sprout features a built-in 3D scanner – powered by the Intel Real Sense 3D camera – a 23″ touchscreen acting as its monitor, and a second display projected onto the 20-point capacitive Touch Mat. This not only allows users to scan objects placed underneath the scanner, but also to manipulate them on either the mat or the screen itself.

Rather than wait for their Multi Jet Fusion 3D printing technology to launch next year, HP wants to kick off their blended reality ecosystem now, giving users the ability to purchase the Dremel 3D Idea Builder (a re-branded Flashforge Creator) as part of a package. That way, users can invent or replicate designs on the Sprout and bring them into the physical world with the 3D printer via Autodesk's Spark 3D printing software. And, when MJF does make it to the public, Sprout users will be able to prototype their designs on the 3D Idea Builder before going into higher-end production on HP's own 3D printing system.

This network of partnerships, which also sees Microsoft looking for its own slice of the pie, combines the power of several big companies – a cabal, if you will – that can gain dominance in the 3D printing space, previously occupied by smaller players. And the fact that HP and Dremel (owned by the massive Robert Bosch GmbH) have begun selling through the Maker Shed, also indicates the growth of Make Media as a increasingly important company, as we shift from a consumer goods market to a prosumer market. Though it is only a small discount being offered at the Maker Shed right now, it's an indicator of larger changes in the industry to come.