MakerBot opens new store in Boston
11.12.2013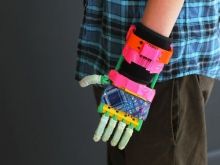 Just before the holiday season begins, Makerbot opens a retail store at Newbury Street in Boston, giving consumers a close look at 3D printers, unique holiday gift ideas and a wide variety of 3D printed made-to-order objects.
"You can take the things that you imagine and make them real," said MakerBot's CEO, Bre Pettis, at the store opening Thursday. "You can make something, and the only person in the world who has to want it is you."
Last year Makerbot opened its first store in Manhattan to let people experience the magic of desktop 3D printing first hand. This store has become a tourist attraction - The store is a stop on many NYC tour bus routes and is also a field trip hot spot for city students.

Boston is the second retail location for MakerBot, and today Makerbot will also open another store at 72 Greenwich Avenue in Greenwich.
That's not all, starting in December, Makerbot will also be introducing an in-store 3D printing service and a 3D photo booth.
At the opening ceremony, twelve-year-old Leon McCarthy showed off his 3D printed functioning prosthetic hand that lets him to draw, pick up food and hold a water.
Leon was born without fingers on his left hand. Two years ago his father Paul McCarthy began searching for an inexpensive yet functional prosthetic hand or Leon, and found a video online about a prosthetic hand that anyone could make with a 3-D printer, based on a design by inventor Ivan Owen. Leon tells that his robotic hand is made of parts printed from a MakerBot 3D printer, but he borke a piece of it last week while playing football, so he printed a new finger to repair it. Is it cool?