Makerbot unveils fifth generation 3D printer range at CES 2014
16.01.2014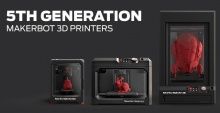 Makerbot has launched its fifth generation desktop 3D printer range at the Consumer Electronics Show (CES) 2014 in Las Vegas this week. Makerbot's Replicator Desktop, Mini Compact and Z18 3D printers (l-r)
The latest Makerbot generation includes the Replicator Desktop 3D Printer, the Replicator Mini Compact 3D Printer, and the manufacturer's largest 3D printer to date: the Replicator Z18.
The Replicator Z18 - named for its 18in height capacity - has a maximum build volume of 305mm x 305mm x 457mm and will be priced at $6,499 (£3,949) when Makerbot starts taking orders in Spring 2014.

It has been designed to enable 3D printing of "extra-large industrial prototypes, models, and products" and to print multiple models at once, using Makerbot's PLA Filament consumable. It is app and cloud-enabled and features USB, ethernet and Wi-Fi connections.
The Replicator Desktop features an 11% larger build volume than its predecessor at 252mm x 199mm x 150mm, a 100-micron layer resolution, assisted build-plate levelling and an on-board camera for monitoring and sharing. It is available for order immediately priced at $2,899.
The Replicator Mini Compact has a maximum build volume of 100mm x 100mm x 125mm, a default 200-micron layer resolution, and a build plate that requires no levelling. It will be available for $1,375 in Spring 2014.

Makerbot also used CES 2014 as the launchpad for a range of new software, including Makerbot Desktop and Mobile applications, Makerbot Printshop and the Makerbot Digital Store - an AppStore-style library of Makerbot-verified 3D collections and models.
"We believe that the MakerBot 3D Ecosystem we are presenting to the world fulfills the vision of a 3D printer for everyone," said Bre Pettis, chief executive of Makerbot.
"Years and years of hard work and dreams are packed into these 3D printers, 3D scanner, apps, and the new MakerBot Digital Store. We have laid the groundwork for everyone to be able to be a creative explorer. We can't contain our excitement to unleash the MakerBot 3D Ecosystem to the world."