Man 3D prints working lawn mower in just 9 hours using giant 3D printer he invented
09.01.2015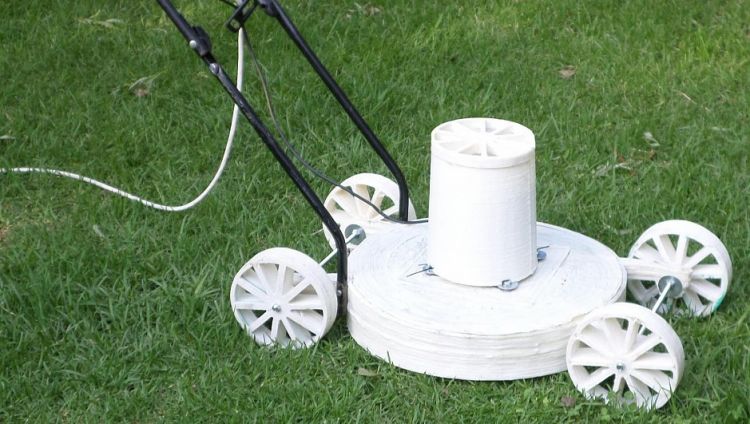 South African inventor Hans Fouche has succeeded in 3D printing a working lawn mower in just nine hours using a 3D printer he invented himself.
Every part of the lawn mower was 3D printed except for the motor, the blade and the handle, which included the electrical switch, as well as the shafts for the wheels.
"There are a lot of big 1 metre plus 3D printers, but they all are printing with 0.5mm nozzles, from filament," Fouche told 3DPrint.com.
"It takes days to print [with these more traditional machines]. We are using a 3mm nozzle, and we print from granules in hours, not days."

Fouche was able to print out the lawn mower so quickly because earlier last year he invented a giant 3D printer capable of printing entire frames for other 3D printers.
He decided to build his own printer because after 18 years' experience with 3D printing, he found desktop 3D printers to be far too slow.
The idea of using a 3D printer to completely replicate another 3D printer is known as the Replicating Rapid Prototype (RepRap) movement, and enthusiasts have been keen on making cheap manufacturing affordable since the hobbyist 3D printing craze began.
Today it is possible for a 3D printer to create a kit made up of 3D-printed pieces that other users can then use to assemble a new 3D printer in minutes, however some connectors such as nuts and bolts still need to be purchased outright.


Fouche's Cheetah 3D printer is unique in that it is big enough to print out the frame of other 3D printers, but it is by no means the biggest 3D printer in the world – that honour goes to Slovenian firm BetAbram's commercial house 3D printer, which costs £9,800 (€12,000, $16,000).
What is cool about the Cheetah though is that unlike other Fused Deposition Modelling (FDM) 3D printers, it is able to print from ABS plastic granules, which are much cheaper to obtain than spools of filament.
"The printing time is 12 times faster than on standard 0.5mm nozzle desktop printers," Fouche said.

"The negative side is the 2.5mm layer height versus the 0.25mm layer height on a standard 3D printer, but does it matter on a lawnmower?"
Fouche's Cheetah 3D printer offers a pretty huge build volume of 1,000mm x 1,000mm x 1,000mm, and he hopes to start selling his printers for about 125,000 South African Rand ($10,670, £7,036.40) in the near future.