SexyCyborg's manual: creation of sexy bikini on 3D printer (photo)
11.07.2017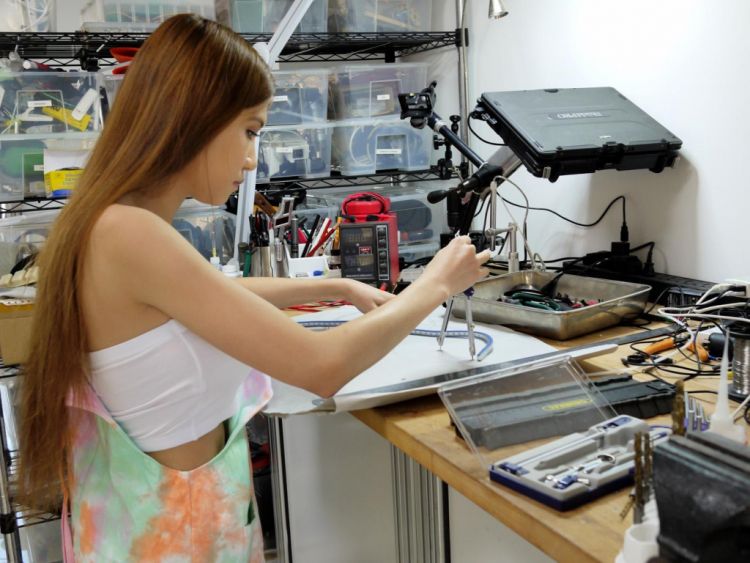 What to do if you want to celebrate the Fourth of July wearing bikini of proper colors but it is absent? Chinese glamour girl Naomi Wu, known as SexyCyborg, offers to focus on 3D printing instead of shopping. A step-by-step manual on bikini creation is included.
The swimsuit top development process started with measuring. Naomi used a flexible ruler. Noting sizes, she developed two patterns of low polygonal triangles using TinkerCAD tool and printed them on FlashForge Creator Pro 3D printer.

Diabase Engineering's Flexion extruder allowed to use thermoplastic polyurethane for printing. SexyCyborg heated the table up to 50°С, adjusted 30% filling and 200 µm resolution.
To keep a complicated curved form of bra halves, the girl used a huge amount of supporting elements. They got detached easily, but given that the inner side of the top was coarse, Naomi glued it over with textile layers covered by silicon.
Based on the working prototype, the Chinese craftswoman printed the ready-made attire in corresponding colors: one bra half was dark blue, another one was white and fixation ribbons were red.
SexyCyborg made the detailed manual on top creation and files for 3D printing publicly available. The guide is accompanied by sexual photos of Naomi in the finished attire.