3D Modeling Master Valeriy Firstov to Talk About 3D Printing in Additional Education
30.09.2019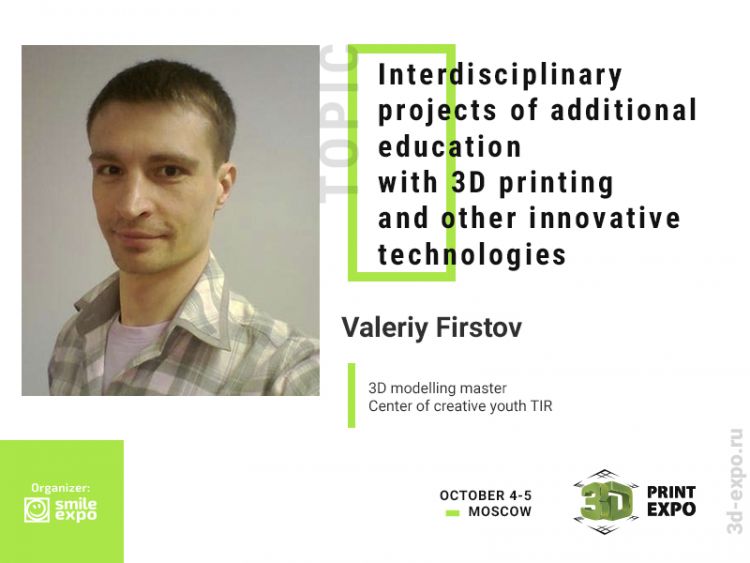 How can 3D printing specialists cooperate with non-commercial organizations and public structures? This issue will be revealed at 3D Print Expo by Valeriy Firstov from the Center for Youth Innovation Creativity "TIR".
Valeriy Firstov is a 3D printing expert, designer, and 3D modeling master at the Center for Youth Innovation Creativity "TIR" (Territory of innovative solutions), Saratov. Earlier, Valeriy worked for Unix IT Company, developing 3D models and animations of characters, as well as for Saratov Center for Youth Creative "Prestige", focusing on 3D milling, scanning, and modeling.
At the seventh 3D Print Expo, the speaker will make a presentation: Multi-disciplinary projects in the additional education sector using 3D printing and other innovative technologies. He will talk about successful non-commercial projects in the education industry and share experience in cooperation with commercial manufacturing organizations.
In particular, he will examine projects for:
Saratov Regional Museum of Local Lore;
Administrative Department of the Saratov Region.
Valeriy Firstov will speak at 3D Print Expo 2019 on the first day of the exhibition, October 4. Join us and ask the speaker your questions!