McDonald's Is Considering Using 3D Printing for Happy Meal Toys
14.11.2013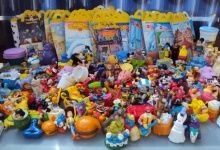 McDonald's Company is looking into buying 3D printers for the independent manufacturing of Happy Meal toys. IT Director of McDonald's UK Mark Fabes announced that he has been considering potential 3D printing opportunities.
Fabes said that using 3D printers, they could print the toys that a kid has chosen, e.g., if the child doesn't like toys currently offered by McDonald's, or if the desired toy is no longer available in Happy Meal kit.
"Many parents noted that they were not satisfied with the toys included in the kit, because their kids didn't like boring and flat heroes",informed UK's Register.
That is not expected to happen in the nearest future, though. "Meanwhile, it's just an idea", said Mark Fabes at one of the events in Munich. First of all, McDonald's should conduct a market research and make sure that people will have an opportunity to use such devices.
Moreover, McDonald's shall analyze potential profit for the company before accepting the technology. Company management must make sure that these plastic melting devices could be used in the public eating places as well. Fabes said that McDonald's would work closely with major manufacturers anyway: "This should be a reliable business partner".