MCor is Talking New Capital & Scale Up For its 3D Printing Platform
16.01.2014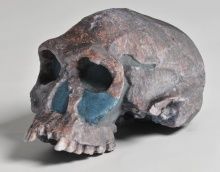 While other 3D printing companies may have been more prolific in their CES launches and announcements, the event has proved significantly fruitful for Irish 3D printing company Mcor, which manufactures the full colour, paper-based 3D printing system, Iris.
Mcor's CEO, Conor MacCormack, has been at the show all week and giving presentations in line with his vision for the company's technology and the industry as a whole. He has also let it be known during his time there that Mcor is "currently working with a number of venture capitalists based in Silicon Valley," according to the independent.ie. We're talking about a potential new round of funding for the Irish firm in the region of €15m, which, according to Conor, will be used for scaling up Mcor's business.

He said: "We're still a very small company. But it's absolutely flying. We did more business in November and December [2013] than the entire year previous to that. It's not a seasonal thing, we just scaled quickly."
"One of the reasons that investors are looking at us is because it's so much cheaper to run one of our machines than rival colour 3D-printing devices," Conor continued. "There's also a much bigger awareness now of 3D printing, partially thanks to consumer and hobbyist machines such as Makerbot."
This is good news for the company, which has a decidedly different approach and message. It's also good for the industry making an alternative 3D printing process more accessible to a wider audience. I suspect prosumers and consumers are included in that in the longer term.