We focus on customers. Interview with the producer of MAESTRO 3D printers
04.10.2018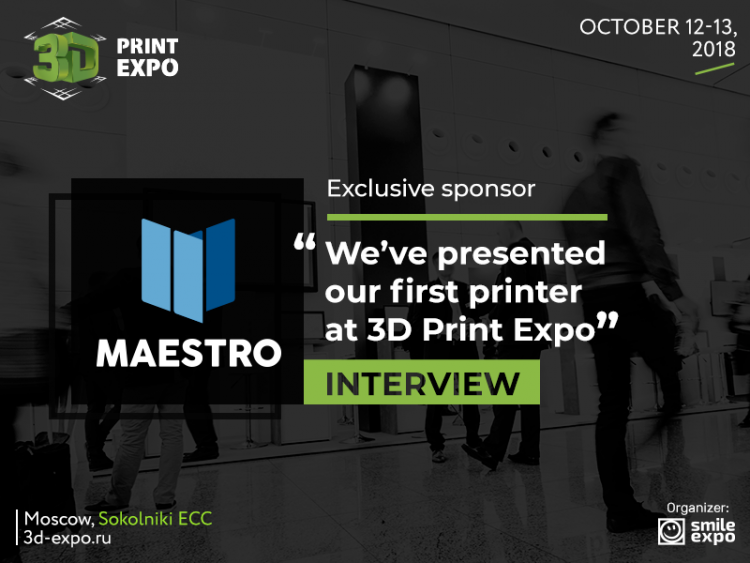 One of the exclusive sponsors of this year's 3D Print Expo will be a Russian developer of MAESTRO 3D printers: Show Design. Prior to the coming event, we talked to a company representative and discovered what novelties they prepared for users and guests of the event.
Interviewer: 3D Print Expo (3DPE).
Respondent: Show Design (SD).
3DPE: Tell us about your company. When was it founded? What areas do you focus on?
SD: Show Design was founded relatively recently, a little over a year ago. However, it is the result of the 15-year operation of the whole range of enterprises bringing together the best specialists in engineering design, programming, and automated control system development.
Within several years, they have developed software systems, equipment, and terminal control boards. The idea of creating the first 3D printer came along with the need for creating elements, bodies, details for current and new projects.
Back then, we hardly realized how widely 3D printers would be used and considered the project as a challenge to everything existing on the market. We decided that we could do the same or even better.
Such an idea struck us, and everything seemed simple. The project on designing Perm's first 3D printer took almost two years. As the result, we had MAESTRO becoming a framework for our new projects.

3DPE: How long was the MAESTRO3D printer developed? What special features does it have?
SD: Less than two years were required to develop MAESTRO. Usability is the main feature of this 3D printer. All consumable materials are standard and easy to find on the Russian market. Removal or replacement of, for example, an extruder, is a two-minute deal. A nozzle can be replaced in process, during printing. Besides, all of this does not require special knowledge.

We believe that, in comparison with the majority of printers on the Russian market, MAESTRO is one of the simplest in terms of kinematics, installation, and control. Some features make it even more user-friendly. Automatic calibration allows to significantly simplify the print activation.
A filament sensor helps to detect and solve printing problems. An on-line standby mode allows to replace filament in action, change printing colors, eliminate any filament issues, and, at the same time, keep printing without quality losses.
One more important characteristic is the fact that software has been initially coded in accordance with the printer's needs. Indeed, the first firmware versions included pieces of MARLIN, but we substituted even them for our own original software code. It allows us to respond promptly to consumers' requests, upgrading, improving, or correcting firmware according to their needs.
3DPE: What areas can apply MAESTRO3D?
SD: It can be used in many sectors: healthcare, education, military sphere, advertising, and car manufacturing. It can be also applied in the production of elements for water purification installations. Perhaps, it is easier to find an area where the printer will be impossible to use, because day by day we meet customers from quite unusual fields, for instance, cooking.
Initially, we were aimed at engineering and manufacturing companies and education. However, printer's possibilities showed its demand in almost all activity areas.
3DPE: What printing materials does the device use?
SD: MAESTRO can use any freely available filaments with an extrusion temperature of up to 350 °С. But we have intentionally limited this temperature to 300 °С as plastics with a higher melting temperature requires more complex printer configuration, while our goal is to design a simple and professional device.
we are able to print using any kinds of household and engineering plastics: PLA, ABS, PET-G, HIPS, FLEX, and others. We were one of the first to announce the ability to print using any types of polycarbonate: from household to low combustible and UV stabilized brands. Due to the inner forced convection, we have managed to create perfect conditions for adhesion of such materials. A closed chamber allows to maintain the inside temperature of up to 50-60 °С, which positively affects printing with other plastics.
3DPE: What industry has greater demand for MAESTRO3D printers than others? Why?
SD: It is healthcare and education that show the greatest demand for our products. Private studios offering 3D printing services also frequently address us.
Customers are attracted by the equipment accessibility. The best possible quality-to-price ratio has determined the choice of many companies supplementing and updating a park of 3D printers. It is easy to modernize and utilize a printer, which is a significant aspect for firms working to deadlines. Moreover, users can conduct the maintenance checkup of equipment or replace consumable materials, for instance, an extruder, nozzle, or ventilator, promptly on their own.
And last but not least, our support service always helps customers. It immediately solves any issues and gives a consultation on MAESTRO. All users can get a consultation from development engineers without switching to various departments. Just a minute after the call, you will be able to talk to the chief programmer or designer of our printer and receive first-hand advice. Our dealers in 16 Russian cities have equipment for replacement in case of warranty repair.
3DPE: How are you going to develop the project?
SD: We are going to launch a comprehensive system for remote monitoring and control of 3D equipment. It is our plans for the end of this year and the next year. We are completing apps for Android and iOS. Obviously, we will monitor and upgrade software of new equipment, as well as provide its smooth operation. One more task is to create a centralized service with certified maintenance shops across Russia.
3DPE: What could you say about the interest of the business sector in 3D printing? Is it highly interested in your products?
SD: We entered the 3D industry market quite recently, a year ago. Nevertheless, we have been constantly monitoring its trends and trying to respond to them. According to our latest data, the market is growing very rapidly. This fact is also proved by the demand for equipment, which has increased by almost 50% over the last half a year, and the expanding range of hardware by both foreign and Russian manufacturers, which is becoming more and more affordable.
Application areas are extending as well, and pretty fast by the way. The demand for 3D printing has also increased. It is difficult to compare this aspect with the previous year, but the demand indeed grows every month; this is a common trend. The growth of interest in additive technologies is generally caused by the promotion of this issue.
Manufacturers of 3D printers, resellers, print workers, and many other specialists engaged in this sector, including 3D designers, are regularly promoting 3D technologies. The Internet offers more and more information about printers and printing technology. The amount of printers is growing as well. All of this leads to the saturation of the market, which volume is hard to estimate.
3DPE: Please share your expectations for 3D Print Expo.
SD: We have long decided the following: we have to be in the public eye. Therefore, we try to attend all available exhibitions, specialized events, and forums. Moreover, we sponsor various regional, federal, and international contests.
We could not miss 3D Print Expo. It is this very event where we have presented our first printer and where we will celebrate our birthday (October 13). Here, we will introduce new equipment that, in our opinion, should specifically affect the market in general.
We are waiting for a feedback from consumers regarding changes that we have prepared. Your platform is an excellent way to communicate with users personally, listen to comments and suggestions, and answer the questions appearing during the work with our equipment.
A lot of meetings are ahead; we are planning to talk to dealers. Surely, we will analyze everything and examine our competitors. So, the exhibition is a proper place for these plans. Thus, we will have lots of work. I believe that the results will be amazing!
Show Design, in tandem with PrintProduct (a manufacturer of materials for 3D printing), will be an exclusive sponsor of 3D Print Expo. On October 13, on the main stage of the event, they will present new products as well as hold an all-prize lottery for 60 people.