MIT Students Create 3D Printed Ice Cream
22.07.2014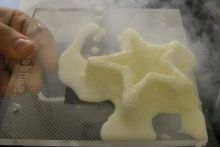 Forget Uber Ice Cream. If you really want to get high-tech this summer, try printing your dessert.
Three students from the Massachusetts Institute of Technology have created a machine that is sure to delight your inner child and tempt your sweet tooth — a 3D printer for ice cream. The trio — Kyle Hounsell, Kristine Bunker, and David Donghyun Kim — hacked a Solidoodle 3D printer and hooked it up to a Cuisinart ice cream maker and to create a contraption that offers on-demand soft serve, according to a report from 3ders.org.
Just don't expect it to replace Mister Softee anytime soon. The system is just a proof of concept, but the team was able to successfully print some fun shapes out of the ice cream, like the star above. They said they designed the printer to get kids excited about technology.
"We were inspired to design this printer because we wanted to make something fun with this up and coming technology in a way that we could grab the attention of kids," Bunker told 3ders.org. "We felt that it was just as important to come up with a new technology as it was to interest the younger generation in pursuing science and technology so we can continue pushing the limits of what is possible."
The team hopes that the technology eventually finds its way into ice cream shops as a fun option for kids.
"We imagine this technology being marketable in ice cream parlors such as Dairy Queen where customers can order an ice cream treat, wait 15 minutes, and see the shape they chose be created," they said.
For a look at the ice cream printer in action, check out the video below. Also be sure to check out the slideshow above for more 3D-printed food.
Meanwhile if you're in the market for your own 3D printer, Solidoodle just lowered its prices. The company's cheapest model now starts at just $399, down from $499, while its most high-end version got a $300 price reduction, from $999 to $699.