3D Print Expo 2016 will include round table with Skolkovo experts
02.11.2016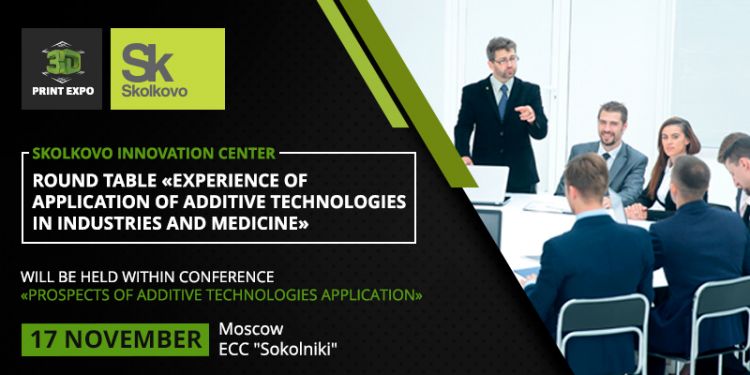 November 17, 2016, the round table with Skolkovo experts will take place within two-day 3D Print Expo 2016 conference. A discussion will be dedicated to the topic: Experience of application of additive technologies in manufacturing industry and medicine.
Specialists will discuss this year's 3D printing achievements, reveal the market integration issue, which will help to extend opportunities of additive technologies, and review startup projects founded this year.
The debate will involve leading industry representatives with a great experience in developing and implementing 3D technologies, including employees of companies producing specialized equipment, businesspeople, startup representatives, and investors.
Round table participants:
Denis Podsoblyaev (AB Universal);
Mikhail Kuprikov (Moscow Aviation Institute);
Dmitry Karelin (NPO Saturn );
Anton Fedoseev (AutoDesk);
Fedor Antonov (Anisoprint);
Benoit Jaubert (FIVES);
Kirill Merenkov (Consistent Software Distribution);
Alexander Safonov (Skoltech);
Marina Domracheva (3DSmile);
Igor Ermolin (NIK);
Alexey Sasarin (Saturn);
Oleg Chizh (Siemens Industry Software).
A moderator of the round table will be Alexander Fertam, Director of Science at Nuclear Technology Cluster at Skolkovo.
The discussion will last two hours.
Besides, 3D Print Expo 2016 will include two plenary presentations:
1. Kirill Merenkov, a lead 3D specialist at Consistent Software Distribution and head of the rapid prototyping center, will make a presentation on the topic: Best applications of 3D technology in manufacturing 2016. The expert in developing task solutions in various production industries using additive technologies will present unique cases and success stories regarding solved tasks of industrial complexes and entrepreneurs in 2016.
2. Irina Suvorova, Sales Director at M-TECK having key competence in supplying equipment for metal working, laser measurement and scanning, production automation, will report on the topic: Nextec laser scanning systems for quality control.
The international conference, 3D Print Expo 2016, will take place on November 17-18 at Sokolniki ECC.