3D printing potential in jewellery: lecture and case studies from the English expert
28.09.2016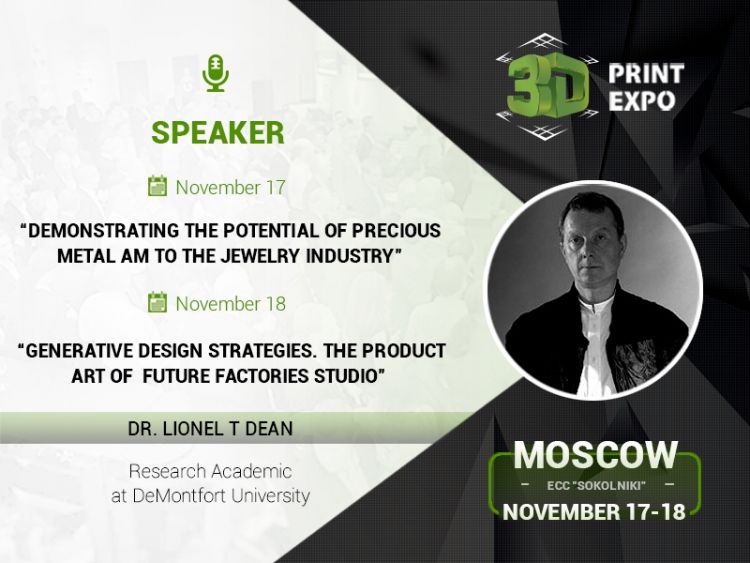 Do you want to know how big is the potential of additive technologies in the jewellery segment? Or maybe you're just interested in using the generative design methods? If so, welcome at ECC Sokolniki on 17-18 of September, to the fourth international 3D Print Expo exhibition!
As part of the conference, a famous expert from England will make a presentation – Dr. Lionel T. Dean, researcher at the De Montfort University and a founder of the Future Factories 3D printing studio.
The speaker will be making lectures throughout two days:
November 17 – the potential of 3D printing with precious metals for the jewellery industry;
November 18 – generative design strategy based on case studies of art products from the Future Factories studio.
Lionel T. Dean has been studying the digital design and manufacturing methods for over ten years. Four years ago he founded his Future Factories studio focused exclusively on additive technologies. Mr. Dean uses virtual environment as a media for implementing his ideas, saying that project solutions can be created here as live subjects – with their past and future forms.
To find out more about the conceptual methods of 3D printing integration within the jewellery industry, attend the annual international exhibition-conference - 3D Print Expo!
Date: 17-18 of November.
Location: ECC Sokolniki.