Neri Oxman Takes Us for a 3D Printed Polyjet Ride Into Astrobiological Exploration
28.11.2014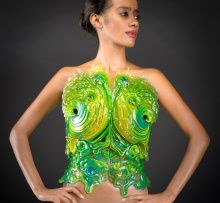 When someone as talented, cultured and educated as MIT professor Neri Oxman is given a tool as powerful as Stratasys' triple-jetting, multicolor, high-definition Objet500 Connex3 to express herself, the limit of what can be achieved is pushed considerably further. The latest collection, "Wanderers: An Astrobiological Exploration", unveiled at Euromold, is yet another demonstration that 3D printing is leading us into a new era for creative expression.
The new project, an ongoing collaboration between members of the Mediated Matter research group at MIT Media Lab with German design duo Christoph Bader and Dominik Kolb, is composed of Mushtari, Zuhal, Otaared and Al-Qamar, four wearable artworks that explore the idea of traveling beyond planet Earth to inhabit other landscapes throughout the Solar System, by augmenting our physiological capabilities in order to visit such otherwise deadly environments.

The wearable items are not just based on a computational process (designed by Bader and Kolb) that cultivates forms on the human body; they are also personalized and inspired by natural growth, to the point that the next step for Oxman's team is to integrate living engineered cells, into the wearable for functional augmentation purposes.
"The future of wearables lies in designing augmented extensions to our own bodies, that will blur the boundary between the environment and ourselves," explains Oxman. "With this collection, we have designed spatially and materially complex wearables pointing towards the possibility of containing living matter that can interact with the environment. Each piece intends to hold life-sustaining elements contained within 3D printed vascular structures with internal cavities, made possible with the dimensional stability and high-resolution accuracy of Stratasys' 3D printing technology. Living matter within these structures will ultimately transform oxygen for breathing, photons for seeing, biomass for eating, biofuels for moving and calcium for building."

OTAARED
Stratasys' technology enabled Oxman's team to closely control mechanical and optical material properties, customizing the designs to produce close to perfect-fit second skins, through the use of human CAT or MRI scans. Each artwork is thus conceived to "mediate" between the person wearing it and the planet around her or him. Mushtari is for a "Jupiter Wanderer". It is inspired by the human gastrointestinal tract and is meant to consume biomasses and produce energy.

Zuhal was conceived to help a Saturn Wanderer adapt to the vortex around Saturn and convert hydrocarbons into edible matter. Otaared is a protective exoskeleton created to compensate for Mercury's lack of an atmosphere while Al-Qamar is akin to a wearable biodome, to create oxygen while venturing on the Moon.
Today, all this feels so far away from our reality and, yet, that is exactly what artists do. Only now they can use advanced technology to give an incredibly defined multicolor and multimaterial shape to their visions of a future literally out of this world.