New 3D printing capabilities in Adobe Photoshop
20.01.2014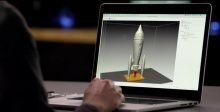 Adobe is adding new functions to Photoshop Creative Cloud software that let users create and edit designs for 3D printing.
Adobe (Nasdaq:ADBE) today unveiled new 3D printing capabilities in Adobe Photoshop CC. As part of a major update to Adobe Creative Cloud, the new 3D printing capabilities integrated in Photoshop CC enable its members to easily build, refine, preview, prepare and print 3D designs. The update will be available for free for all Creative Cloud members today.
This is the first first time 3D printing support has been added to a mainstream creative tool like Photoshop, says Adobe product manager Andy Lauta. "This is going to be an exciting opportunity for our consumer base. And it's going to have a big impact on 3D printing industry as well."
Last year, Microsoft introduced 3D printing support to Windows 8.1, but the 3D API in Windows 8.1 expects a well-formed model. Now Adobe wants to make a model printable.
Lauta said that Adobe had identified a "software gap" in the 3D printing process. "The problem is that these models — the meshes, the 3D meshes that these different tools create — actually have many flaws and if you try to print those models right as they exist to these various printers you're going to see failures," Lauta said. Photoshop incorporates tools to identify problems with 3D meshes, he said.
While you could always create basic 3D models in Photoshop, Adobe, however, isn't the most powerful 3D modeling tool. Obviously the company wants Photoshop to be closer to a finishing tool — you bring in models from a third-party tool and then finish them in Photoshop. By adding tools like automated mesh repair and support structure generation, Adobe wants to make printing a model easy. It also allows you to add colors and textures or choose materials to personalize your model. When you hit Print, Photoshop CC will let you preview what your design will look like based on the printer and materials you've chosen.
"We aren't envisioning Photoshop to compete with other models, but — similar role to what the platform does in the creative workplace — it will be a finishing tool to create and edit," Lauta said.
"It takes the hard part out of 3D printing," Lauta added. "What you see on the screen will be what's printed in 3D." Photoshop now supports a range of 3D printers and 3D printing services. With today's release of Photoshop CC, designs can be printed to a locally connected 3D printer or via built-in access to popular online 3D print services.
Photoshop CC supports the popular desktop 3D printers including the MakerBot Replicator 2 and also supports the full range of high quality materials available on Shapeways, including ceramics, metals, and full color sandstone. Photoshop will even estimate the price for these prints and provide users with previews based on the color and material that users choose. Other services and printers will be added over time.
Additionally, Photoshop users can now directly upload their 3D models to the Sketchfab 3D publishing service, and embed them in their Behance profile using Sketchfab's interactive 3D viewer.
The update is free for Adobe Creative Cloud members ($49.99 a month), Creative Cloud app members ($19.99 each month) and CS3 customers ($9.99). You can also try it out by downloading Photoshop for a free 30-day trial period. Adobe has now 1.4 million users and this move could draw more users to its Creative Cloud suite.