New Balance uses 3D printing to make custom spiked running shoes
02.04.2015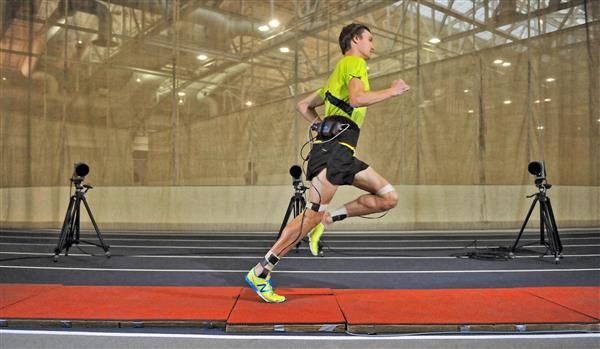 While several attempts have been made at 3D printing footwear, most of these had strictly noble intentions such as reducing waste. Few people stand by the illusion that a 3D printed shoe will actually be better than a non 3D printed shoe, though designers from the Boston-based shoe manufacturers New Balance are working hard to reverse that image. Specializing in athletic shoes, they have developed 3D printed components for shoes that actually make athletes faster during races.
What specifically makes or breaks an athlete on the track is the traction provided by the spiked plate on the underside of shoes. Great traction simply means better performances. And to get the best results, the age-old company (New Balance was founded in 1908) has recently started 3D printing spike plates using plastic laser sintering 3D printers developed by EOS.
Key, of course, is customization. And to suit the biomechanics of every athlete New Balance is feeding sports data into their EOSINT P 395 3D printer, that makes custom spike plates for every runner from plastic powders. Sean Murphy, senior manager of innovation and engineering at New Balance, said, 'There are so many great things that came out of this process, compared with the methods we used in the past to develop and manufacture products. We record a runner's data, generate multiple plates we feel will meet his or her needs and provide several pairs of track spikes simultaneously for them to try. It's great to have them identify and respond to each different variation that we produce.'
To get to that point, athletes carry sensors in their shoes during training. This helps determine the relationship of the foot to the force plate, generating a three dimensional vector recreation of the foot strike. The in-shoe sensors show discrete pressure information over the course of the runner's foot strike and how the foot interacts with the shoe. When a particular part of the foot exhibits high pressure values, it generally indicates that the associated 3D vector is important to that area of the shoe at that specific moment.

'We establish a relationship between these high pressures and the corresponding forces to help us create a map of forces relevant to each area of the foot,' Murphy explains. 'A simple example is in the toe area. Generally, when you see high pressure there, it corresponds to a force that is pushing toward the heel to create a propulsive force forward. We use parametric modelling software to process this data and distribute the position of the spike plate traction elements, calculate the orientation and adjust the size of the elements, and incorporate specific runner preferences into the design.' All that data is fed into a CAD file, which is simply converted to stl format and 3D printed.
While high quality 3D printing usually increases convenience in exchange for higher costs, that might not even be the case for these shoes. For conventional spike plates require several injection moulds of various sizes, all costing thousands of dollars. These moulds will run thousands of plates before being retired or replaced, often annually, by a mould for a new model. With the EOS solution, the laser-sintered batch produces around four unique plate pairs and take five to six hours to manufacture. 'By laser sintering our customised spike plates we can manufacture on demand, fluidly adjust our process to accommodate different sizes and widths, and update designs without the continuing capital investment required by injection molding,' says business manager Katherine Petrecca.
But are the shoes better? Well they are certainly lighter. As Petrecca added: 'Incorporating the laser-sintered spike plate also allows us to achieve a five per cent weight reduction compared to traditionally manufactured versions. For a competitive runner, the smallest change in weight can make a significant difference.' The nylon powders used are certainly also superior in terms of tensile strength and flexibility.
According to Kim Conley, a member of Team New Balance and a US Olympic runner, this certainly affects performance. After initially visiting New Balance for simulation testing, actually Conley wore her 3D printed spike plates in a competition at the Mt SAC Relays, held at Mt San Antonio College in Walnut, California. 'My shoes are critical to my performance. They are the most important piece of equipment I have. As a professional runner, you obviously want the most effective and comfortable spike plates for competition. For me, they are the ones New Balance designed, based on the curve running data their development team collected,' she said. 'They provide better traction and less pressure on the outside of my foot, which allows me to focus on my race plan and not worry about my equipment.'
Conley has continued to wear these shoes with 3D printed spikes in various important races, setting new personal records on two occasions: in the 3000 metres (8:44.11) and 5,000 metres (15:08.61) while wearing her laser-sintered spike plates.
But of course the question remains: can these benefit the amateur runner as well? While currently only available for Team New Balance athletes, Petrecca suggests that this will eventually change. 'Design-driven additive manufacturing really holds the promise of more on-demand production and more individually customised designs. The spike plates are the first step we have taken with our athletes,' she says. 'As the material options expand, as our own proficiency with the technology increases and as capacity for additive manufacturing grows, we believe we will be able to bring 3D printed products, in some format, to the everyday consumer.'
While this could take a while, the first important steps in the professional world have already been made. How long will it take before 3D printed gear starts to take over other sports as well?