New generation of fabric: World's first 3D-printed disposable panties
18.11.2013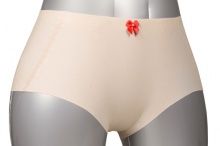 3D printing technology could revolutionize the textile industry. The world's first 3D printed disposable panties, the brain-child of an Israeli couple, could soon come to market as early as next year.
Israeli inventor Tamar Giloh, founder of Tamicare has developed an automated 3D printing system that creates a stretchy, biodegradable fabric known as "Cosyflex." We have seen 3D printed clothing made of nylon mesh, but Tamicare is claimed to be able to create underwear which will feel just like woven fabric using Cosyflex's unique additive manufacturing method.
Cosyflex is an innovative process for 3D printing for fabrics which could instantly create finished products from raw materials with no cutting and no waste. By layering natural rubber-latex polymers and cotton fibers using a spray gun, Tamicare's technology can make a pair of disposable undies in under three seconds or up to 10 million per year.

Various types of liquid polymers such as natural latex, silicon, polyurethane and teflon, as well as variety of textile fibres such as cotton, viscose and polyamide can be used to make all types of clothing, as well as bandages and sportswear. And Cosyflex prints also unlimited fabric variations with any combination of features, patterns, embossing or perforations on the same sheet.
Giloh and her husband came up with the idea for the disposable panty more than a dacade ago, as a way to prevent leakage for women who suffer from menorrhagia, or excessively heavy periods. Giloh's Manchester, England-based firm has raised $10 million toward developing its 3D printer since it was founded in 2001. Its printers are sold to cosmetic and health-care companies for about $3 million each.
Tamicare revealed the technology at a conference last month, and it says it has received 30 inquiries from companies, including lingerie giant Victoria's Secret. Next year, Tamicare's 3D printed absorbent padded underwear that can be thrown away after a single use, is expected to hit shelves in a leading pharmacy chain in Israel.

"This is an unusual application and certainly a first in the world of 3-D printing," writes Terry Wohlers, president of the consulting firm Wohlers Associates.

Beyond protective hygiene, Cosyflex has applications for medical, veterinary and outdoor activities, such as a compression bandage formedical industry or a mask for the cosmetics market. "Anywhere a piece of fabric would need many levels of compression is ideal for this product," Giloh said.