New Generation of Ultrasonic 3D Printers from the Fabrisonic Company
04.11.2013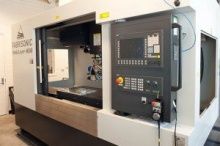 Fabrisonic Company has recently announced it is going to present its new line-up of SonicLayer 3D printers at EuroMold 2013 exhibition, that is about to kick off this December in Frankfurt, Germany.
For its SonicLayer 3D printers (models 4000 and 7200), Fabrisonic developed a unique technology called Ultrasonic Additive Manufacturing (UAM) which allows to combine layers of different metals. And now the company has created SonicLayer 4000R 3D printer with an additional rotation axis. That gives benefit of placing a cylindrical metal detail (eg. roller, mould or pipe) under the welding system and further layering of 3D metal model on the external detail surface.

SonicLayer 4000R has a 3-axial CNC module on the 40 х 24 inch table (101,6 х 60,96 cm) and 8000 rpm shaft providing 25 hp of torque force and enabling to process any metal surface. Device also uses Fabrisonic UAM, patented 9 kW welding tip for additive manufacturing of hard metal parts.


New Generation of Ultrasonic 3D Printers from the Fabrisonic Company
New 3D printer can be used in potential for making the precious metals covering with a third-rate core, as well as for creating the high pressure containers reinforcement plates and changing the size of a standard metal bars.

"As a result, ultrasonic additive manufacturing can change the way we produce details and the new rotating module is about to compensate a gap in technology which has been disturbing for a lot of customers", said Mark Norfolk, CEO of Fabrisonic.

SonicLayer 4000R technical data:
Device size: 3,6 m х 3,6 m х 2,87 m;
Axis operating cycle: Х-line ~ 101,6 cm, Y-line – 60,96 cm, Z-line – 60,96 cm;
Linear accuracy: positioning ± 0,005 cm, replication 0,002 cm;
Table size: 101,6 cm х 60,96 cm;
Rotation: external diameter – 5,08 – 20,32 cm, detail max length – 30,48 cm
Welding unit: output — 9 kW; welding force — 2500 pounds, welding speed (max) – 200 inches per minute.