Number One Teacher of 3D Printing
29.10.2013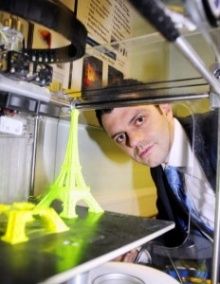 The UK may soon have a recognised number one teacher of 3D printing. Philip Cotton is aged a mere 31,. He is the only teacher among the companies and businesses to be nominated for the 3D Printshow Educational Excellence Award.
Mr. Cotton teaches design and technology at Ladybridge High School, in Deane, UK. Phillip has taken the wise step of introducing the UK's official favourite 'gadget' – according a Gadget Show Live Poll 31% of the UK's gadget inclined are inclined towards 3D printers as their gadget of 2013 – into his classroom to help pupils improve their technology skills and job prospects.
He said: "It would mean everything if I won — it would be one of the highlights of my career. The school is behind me, all the teachers have voted for me. The fact I've been nominated shows how far 3D printing has come. 3D printing is the future of technology. You're creating a project there and then, it's mesmerising. In 10 years, most households will have a 3D printer."
As part of their GCSE design and technology projects, pupils at Ladybridge have used 3D printers to design and develop a full working prototype of a lamp. In his preparation, Mr Cotton taught lessons on Computer Aided Design (CAD), to empower youngsters to create the models they needed to 3D print.
Voting for the 3D Printshow Excellence Award closes on Thursday, October 31. Mr Cotton will find out if he has won on November 7. To vote, visit the 3D Printshow website and go to the Awards section.