Anton Agapovichev to Talk About Additive Technologies in Aircraft Engineering
22.08.2019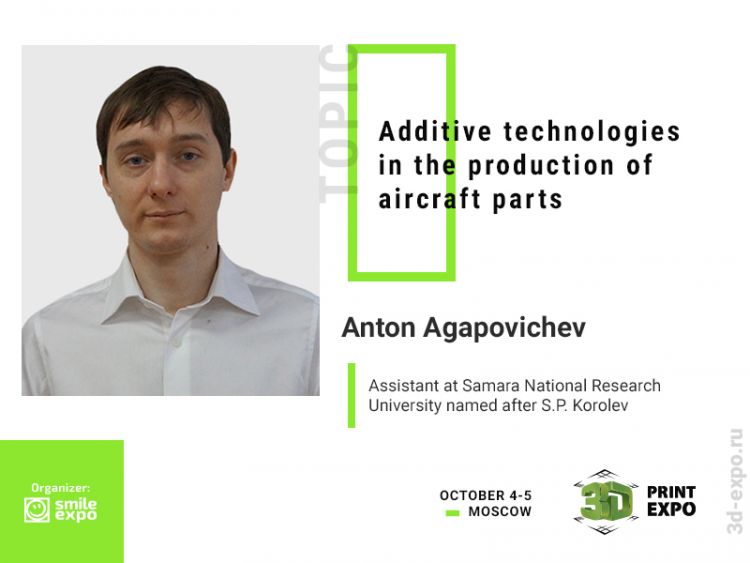 How does one develop metal 3D printing methods for aviation and space manufacturing? What modern investigations are conducted in this sector? These issues will be revealed at 3D Print Expo by Anton Agapovichev.
Anton Agapovichev is a research fellow at the additive technology laboratory of Samara National Research University named after S.P. Korolev. He has participated in many additive technology projects, in particular, the development and 3D printing of a turbine engine combustion chamber.
Anton is the owner of two patents on the invention and the production prototype, the author of 43 publications, some of them in journals included in the list of the Supreme Attestation Commission of the Russian Federation. He is a regular speaker at specialized conferences and seminars.
At 3D Print Expo, he will make a presentation: Additive technologies in the production of aircraft parts. The expert will tell the audience about the development and application of metal 3D printing methods in Russian aviation and space manufacturing.
Key points:
activities of the additive technology center established by Samara University;
current application areas of laser cladding technology;
development of component manufacturing technological processes using a selective laser melting method;
major Russian providers of metal powders for additive technologies;
experience of component production out of heat-resistant, aluminum, titanium, stainless, and tool steels and alloys.
---
Discover more about Russian 3D printing solutions!