Companies dealing with 3D construction
14.04.2017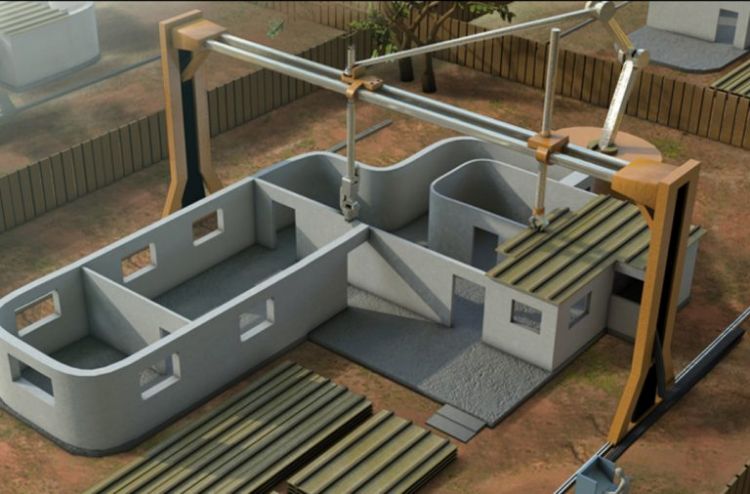 Large companies and startups around the world are dealing with the development of 3D printing technologies applied in construction. Some of them have already achieved considerable success in the industry. Engineers have developed 3D printers for the construction of not only small sheds and outbuildings, but also full-fledged dwelling houses. Moreover, they can print it in less than a day. Below you'll find an overview of the most successful 3D printing companies in the field of construction.
Contour Crafting
Professor of the University of Southern California Behrokh Khoshnevis developed a device titled Contour Crafting, which became a model for other 3D printers used in the construction industry. The device is a mobile portal construction with an extruder. A fully-fledged version of the 3D printer is fully automated and allows engineers to install additional fittings and communications.
The development is sponsored by the US Navy, but NASA, is also very interested in the project, so the technology of additive construction is kept secret and the company's achievements are not widely known.
D-Shape
Enrico Dini has developed the most extraordinary device for additive construction. D-Shape does not use a traditional extruder positioned on three axes, but prints with the help of 300 nozzles that are fixed to a mobile unit. The 3D printer applies a binding agent to sand layers. The disadvantage of the technology is that the material requires at least 24 hours for hardening.
Using an innovative device, the engineer managed to print an interesting 3×3×3 m sculpture.
StroyBot
The Russian engineer created a 3D printer StroyBot and printed with its help a small fairy-tale castle. He couldn't get support at home, so he moved to the US and demonstrated there all the possibilities of his 3D device by creating a part of hotel building with an area of 130 m², which includes several rooms, built-in communications and a hot tub. Currently these premises are actively used.
An interesting feature of StroyBot is that it applies geopolymer concrete from volcanic ash.
"Spetsavia"
The Russian company "Spetsavia" used to manufacture CNC machines, but now it produces quality 3D printers for the construction sector. There are at least seven different machines that use traditional portal scheme.
The most resounding implemented project of the company was printing of a replica of the Winterfell watchtower on the territory of Yekaterinburg cement plant. Today it is used as security post of the enterprise.
Last year, the company sold more than 30 construction 3D devices. And this year "Spetsavia" is going to present a ready-made project – a full-fledged 3D printed building with an area of 165 m².
Apis Cor
Irkutsk startup uses a unique manipulator for 3D printing of buildings, which is fixed on a mobile platform. In other words, the machine creates walls around itself, and then it is transferred by means of a crane to another location. The 3D printer is quite compact and fits easily into a truck.
Using their invention, the company's specialists printed a small cute little house in Stupino, which has rounded walls and communications. The construction mixture hardened in less than a day, despite the fact that the project was implemented under the conditions of increased humidity: it rained and the building was constructed under the awning.
Now the company is planning to print a whole eco-friendly settlement in Texas.
WinSun
Three years ago, Chinese inventors from WinSun break into the industry, having printed more than 10 buildings per day. Rectangular "boxes" were created in the shopfloor, without communications, and then were assembled in the designated area. In less than a year, WinSun implemented several large projects: 3D printed five-storey house and a huge mansion. And in 2016, the company printed an office building in Dubai in 17 days.
WinSun 3D printer is a portal device that applies cement mixtures with recycled wastes.
The prospects of 3D printing in the construction industry are huge, but unlikely the technology will be able to completely replace traditional building methods in the near future. At the same time, additive technologies are capable of becoming an excellent additional tool and a serious competitive advantage for construction companies.