3D Systems ProJet 3510 HD review
02.11.2017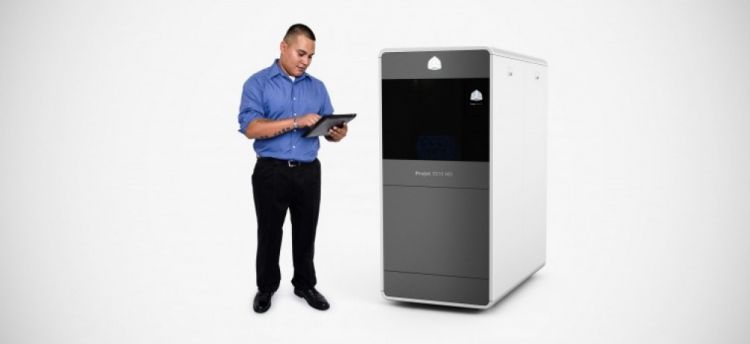 Multi Jet Modeling is technology of multi-jet 3D printing, additive production method developed by 3D Systems. The high accuracy of products is its main advantage.
Thermoplastic, wax, polymer resins, as well as special VisiJet mixtures (used in dentistry) are used for printing.

Advantages of MJM-technology:
Convenience: it is possible to print out small details or some parts of a big one at once;
Speed: it takes several hours to print medium-sized parts;
Finish: the product is ready to use after printing.

3D Systems ProJet 3510 – HD ProJet 3510 HD is the flagship of 3D Systems. The printer is designed to produce solid parts, and the thickness of the products is 32 microns. Two modes – HD (high resolution) and UHD (ultra-high resolution) – is the main advantage of the device. In the second case, the ProJet 3510 HD creates objects with a resolution of 750x750x890 dpi.
Specifications:
Parameter

HD

UHD

Build volume

298x185x203 mm

203x178x152 mm

Resolution

375x375x790 dpi

750x750x790 dpi

Layer high

32 μm

29 μm

Print speed

5 mm/h

2,5 mm/h

Material

VisiJet S300, VisiJet Dentcast

Weight

279 kg

Size

749x1207x1543 мм mm

Pros
ProJet 3510 HD, like all 3D Systems solutions, creates highly accurate products with a long life time. The printing quality is the highest compared to the analogues on the market.
Room temperature of 18-28ºC and free air circulation is enough for the device to work properly. In addition, the printer is quiet enough, so will not disturb you.
Cons
The main drawbacks of the ProJet 3510 HD are the non-availability of material and a high price: special mixtures VisiJet S300 and VisiJet Dentcast are sold only on the manufacturer's website, and the printer costs $ 70,000.
Areas of use

Dentistry is the main field of ​​application of the device. The printer is able to create high-precision prostheses, implants, casts and models of organs. Dentists use ProJet 3510 HD for printing crowns as well, given the high accuracy and speed of production.
However, in addition to medicine, the ProJet 3510 HD can be used to create other details, just by charging the machine with wax. This allows you to use the printer in different areas, which greatly enhances its versatility and competitiveness.
Subscribe to the news of 3D Print Expo 2017 on Facebook and VK!