Orange Maker announces high-res 3D printing technology - Heliolithography
04.07.2014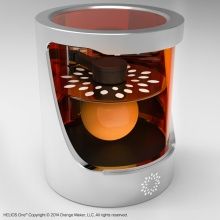 Orange Maker, the LA-based 3D Printing technology startup, has announced today a revolutionary new 3D printing technology - Heliolithography (patent-pending) - that displays significant improvements versus conventional Stereolithography (SL).
Stereolithography is one of oldest methods used to create 3D-printed objects. SLA 3D printer hardens liquid plastic (photopolymer) with an ultraviolet (UV) layer by layer and converts liquid plastic into solid objects.
Similar to SLA, Heliolithography (HL) is a photopolymer-based process that utilizes UV light to cure liquid resin. According to Orange Maker, HL offers "greater theoretical limits on printing speed, options for a greater variety of compatible printing materials" compared to the SLA process, and it also offers "smoother surface finishes, and allows for a level of detail not achievable in current desktop printers."
"The HL innovation provides a solution for photopolymer-based 3D printing that solves the adhesion issues that are common in SLA systems." Doug Farber, co-founder of Orange Maker told 3ders.org.
"In addition, HL technology represents a major breakthrough in process scalability, allowing the printing process to be carried out from the micro-scale through theoretical size limits greater than current large-scale industrial printers."
Orange Maker's first prototype, the Helios One is currently under development. The Helios One is cased in an aesthetic design that includes a silver body and a viewing window. "We believe artistic expression and people's desire to create will always be the driver of innovation in 3D printing." Farber said.
Farber told us, the Helios One will provide the following in comparison to current FDM and SLA desktop printers:
Continuous and efficient build process
Large, scalable build area
Ultra-high resolutions
Reliable printing process with fewer failed prints

Orange Maker team
Orange Maker is led by executive team Kurt Dudley, Doug Farber, and Chris Marion, and was founded by Dudley and Farber in 2011.
Dudley is a multimedia artist who has always been fascinated with merging digital and traditional mediums. As an artist, he felt limited by the fact that the 3D art he was creating was trapped on a computer screen. He began to investigate what types of 3D printing or additive manufacturing technologies were available that he could use to make his 3D designs tangible.
However, he found that the poor resolution, expensive cost, and frequent breakdowns of the 3D printing systems proved to be prohibitive. At that time, this was a very niche technology. He began experimenting with 3D printing, and envisioned ways to make it much more high-quality for his purposes.
Farber, a technology entrepreneur and visual artist, had been working on developing start-up companies in Los Angeles, and began collaborating with Kurt after becoming inspired by 3D printing as well.
Together they created a vision for Orange Maker-- an innovative end-to-end 3D printing technology company. Research and development began on Orange Maker's unique system.
By 2011, they had begun filing intellectual property patents on Heliolithography led by their attorney, Michael Ram, and with direction from their legal advisor, Paul Sipio.
They were joined in 2013 by multi-disciplinary engineer and lead product designer, Chris Marion, who had been developing his own 3D printing hardware and software on the other side of the country. He joined Orange Maker to help with technical development, as well as lead prototyping and development efforts for Orange Maker's proprietary hardware and software.
"The most difficult part of our development was keeping our technology completely under wraps for several years while we completed our research & development and filing of intellectual property on Heliolithography." Farber said. "[We are] very excited to finally announce ourselves and begin collaborating with others who are inspired by the great future of 3D printing technology."
Helios One projects
Orange Maker is currently preparing to manufacture a second generation of prototypes to begin field-testing their product. Additionally, they are in the research and development stage of formulating optimized printing materials for use in an Orange Maker system, as well as developing software tools including Desktop applications and mobile apps that specifically designed for Heliolithography 3D printing systems.
The price point for Helios One is yet to be determined, but Farber said it aims to be accessible to the prosumer market.
"Ultimately, we want to give people the highest quality tools available to use 3D printing for their purposes." Farber said. "We also want to encourage the 3D printing community to be an open and collaborative environment to propel innovation. We are extremely passionate about 3D printing, we want to connect with people who have amazing ways that they want to use this technology."
"Heliolithography is a foundational technology, so there are many ways we can develop and optimize hardware that embodies it for use in a broad range of industries. The possibilities are quite exciting." Farber added.
Helios One projects will be available in 2015.