Paint your own Easter Egg in 3D and win a 3D print
16.04.2014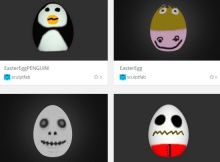 Still merely dunking an Easter egg in dye? This Easter, take your eggs one step further with 3D printing techniques.
Folks at Sketchfab decided to celebrate this Easter by turning their web-based sculpting tool Sculptfab into a 3D Egg Painter app. And, they are also giving away 15 awesome 3D printed Easter eggs.
On Easter, the egg symbolizes new life just as a chick might hatch from the egg. So instead of spending a few hours searching the web for some creative ideas, you can now use the 3D Egg Painter app to design your Easter Eggs.
You don't need to be an experienced 3D designer to enter the contest - while painting, just use your left mouse button to paint on the egg, and click and hold your right mouse button to look around your egg. You can select different brush sizes and colors with the Radius, Intensity and Color options. When you finish your design, you can save the model to your Sketchfab account and share your egg on Sketchfab, twitter and facebook.
In collaboration with Shapeways, Sketchfab is giving away 15 beautiful 3D printed eggs to the authors or the 15 best entries. Sketchfab will pick one winner a day for 15 days.
This contest starts on Friday, April 11th and ends on Sunday, April 27th. You can see the live submission thread here. Enjoy and Happy Easter!